New Teacher Profile: Christian Miguez Brings New Spunk to the Spanish Department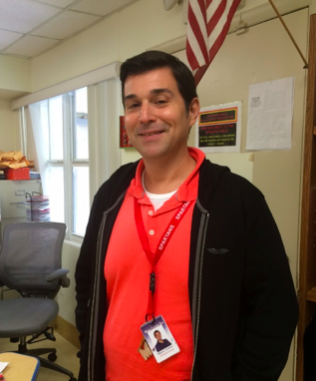 Christian Miguez, a new Spanish teacher at Miami Country Day School, is injecting passion and humour to the World Languages department. This is the kind of Spanish teacher who finds ways to engage his students and guides them to success. Miguez tells his students that they are all passengers on a plane together. The teacher is "el piloto", and they are all on an "avion".
"Mr. Miguez is a teacher you don't fear and is not only an amazing teacher, but a guy you respect and who respects you," says John Sayfie, one of Miguez's students in his Spanish IV Honors class. John stated that there are some teachers who aren't on your side but Mr. Miguez is a teacher that wants you to succeed in everything you do, while making you feel as at home as possible in a comfortable learning atmosphere.
Miguez's biggest challenge in teaching is constantly changing the curriculum as the times change. As new technology is released, there are more opportunities for him and his students and he always strives to take advantage of that. "The world is in constant evolution and we as teachers, need to cope with that."
As a child, Miguez was always the group leader in school activities and he always helped his peers when they were struggling in class. "On the other hand, I would make fun of every single teacher I had along the path of my middle and high school career so who would think that I would end up in front of a class!" joked Miguez.
Born and raised in Buenos Aires, Argentina, Miguez moved to Atlanta to start his teaching career at 20 years old. After teaching in Atlanta for many years, he decided to follow his heart and move to Miami. "I came to Miami for the first time in 2001. It was love at first sight! Ever since then I wanted to move here," Miguez stated.
Miami Country Day is very fortunate to have welcomed Christian Miguez into our family. He knows that this school is the perfect fit for him.