A No Coffee Cafe
Hang on for a minute...we're trying to find some more stories you might like.
The Brod Arts Cafe at the Center For the Arts opened Monday, August 28th. But, despite many expectations, the cafe does not serve caffeinated beverages, like coffee or tea.  
Senior Danny Strouse was outraged. "What's a cafe without coffee?!" Another student, Junior Phillip Steinberg, said "I think it takes away the purpose of having a cafe, but it's a good thing that there is a cafe anyways."
Why the decision to keep coffee out of the cafe? Dean of Students Jose Oronoz classified coffee as a drug. "I don't know why anyone expected us to serve coffee. We stopped serving caffeinated drinks years ago. Having a Cafe just means there's a place to get some food," he commented. The school stopped serving soft drinks over three years ago.
While students will not be served coffee, neither will parents or adults right now. But that might change. Oronoz added, "We are trying to figure out how we can serve parents coffee. SAGE does not want to have to police who can and can't drink coffee."
While the Cafe will not serve coffee, it serves an array of smoothies, pastries, sandwiches and salads, as well as chips, pretzels and other snacky items. Smoothies are $5.50; pastries range from $2 to $3; sandwiches from $1 to $5;  salads from $3 to $6 and chips, nuts and various small snacks range from $1.50 to $3.50. Lunch meals are "grab and go" style like the other existing venues on campus and are free of charge.
The Cafe is open Monday through Friday, as well as Saturday (for athletic events and special events only).  It is closed on Sundays. On weekdays, the Cafe is open for retail from 7:00 AM  to 9:30 AM, it re-opens for lunch at 11:00 AM to 1:30 PM and opens for retail again from 3:00 PM to 7:00 PM.

About the Photographer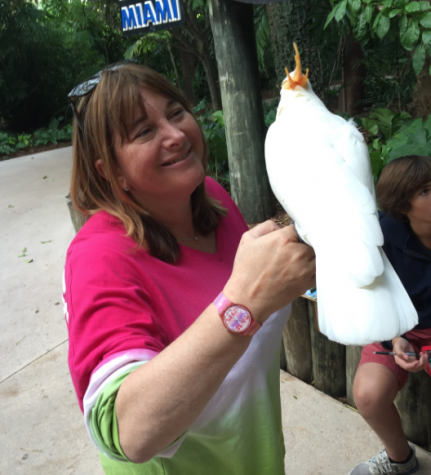 Karen Davis, Advisor
Karen S. Davis, MS. Ed., CJE

Karen S. Davis is an Emmy-winning Producer/Writer, nationally certified Journalism Educator, avid photographer, digital...