Farewell to Mr. Stephen Brennan
After "four happy years," Stephen Brennan announced that he will not be teaching at Miami Country Day next year. While noting nothing but fond memories of his time here, next year, Mr. Brennan told us, he and his family will be moving to Long Island where he will teach history at a private school in Glen Cove.
Adding a baby to their brood last summer was a big part of their decision to move. "We have loved it here at Country Day, but we miss the seasons. With our baby boy we want him to experience the seasons and have a cold winter and leaves in the fall."
As he prepares to make the move, Mr. Brennan recalls some of his favorite moments here at MCDS.  Being the class sponsor for the seniors, helping to organize the rafting trip, Homecoming, Prom all top on his list. He will also miss interacting with his students and all the friendships he has made over the years.
Favorite classroom moments? Teaching about the murder of Julius Caesar and hosting the Medici Awards during the Renaissance unit are two of his most memorable. Those who have had Mr. Brennan as a teacher know that the Medici Awards are  "a competition for the best artist, religious reformer, explorer, and writer" of the Renaissance period. Mr. Brennan says the awards have always been the highlight of the year in his world history classes.
Mr. Brennan will take with him the "wonderful experience" that it was being a part of the GATEWay Madrid program where he had the opportunity to teach art history for a month in a completely different setting. As he moves on to a new chapter in his life, Mr. Brennan hopes that the students he has worked with will keep in touch and keep him posted on what they are up to in the future.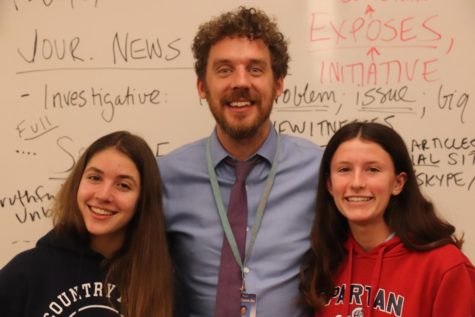 The Spartacus staff would like to thank Mr. Brennan for his three years as Co-Advisor, and while the MCDS community is sad to see Mr. Brennan go, we wish him and his family all the best in the future!
Students and teachers say goodbye to Mr. Brennan:
Mr. Slotnick – "He is one of my top two favorite Brennans in this school."
Mr. Brown – "I believe we all feel like a part of our heart is being torn out, but we wish that part of our heart success. I'll miss his humor, his music, and his curls."
Ms. Davis – "I will miss his Britishisms and witty headline suggestions during our Spartacus pitch meetings; but even more so, I will miss our healthy disagreements!"
Sophomore Asha Yearwood – "I'm going to miss Mr. Brennan, not only because I learned so much from him in my world history class, but because he genuinely cares about his students. He always greets us with a genuine smile and has the best British accent. As he always says, 'cheers', I wish you the best!"
Senior Daniel Strouse – "Mr. Brennan was one of the best teachers I have had the privilege of being taught by at Country Day. As a freshman, he was incredible and considerate and was extremely helpful in making the transition from middle school incredible. As the sponsor of the class of 2018, it has been awesome to see him just as excited as we all were, and it's sad to see him go."
Sophomore Sofia Paredes – "Mr. Brennan's freshman world history class was the class that really opened my eyes to the wonders of history. I would look forward to his class everyday, as history stopped being just another school subject and it turned into one of the most enjoyable parts of my day. I am truly sad to see him go, but I wish him all the luck in the world in his new school!"
ANYONE WHO WOULD LIKE TO LEAVE A FAREWELL MESSAGE FOR MR. BRENNAN IS WELCOME TO DO SO HERE, IN COMMENTS.