Fresh Out of Middle School
Welcome Class of 2024!  This is the biggest class ever with 139 kids in 9th grade. As we approach this upcoming year, there is a lot to expect. A lot of new changes. A new environment. A new everything! The school year set-up, as we know it,  is drastically different from any other school year. Students are learning, while sitting in front of a computer screen. Teachers are teaching while looking at their own screens and many parents and students are feeling uneasy. 
Luckily, class sponsors  Michael Slotnick and Marra Smith have assembled a 9th-grade leadership committee that began working on ways to make the transition to upper school fun, inform you about the struggles, the joys, the requirements, and innovative ways to prepare you for this upcoming school year.  
For new students, coming to a new school can be difficult and merging into the MCDS environment may be a challenge. Many students, new or returning, have questions about high school. "How many electives do we have?"  What are the requirements to pass high school?" What can I wear?" "Is the workload heavy?"  "How will I be able to see my friends?" Yes, all of these questions are valid and very important. 
To ease that discomfort, the team held a virtual Freshman Town Hall on Friday, August 21 to give an overview of the challenges and difficulties you might encounter. Freshman team leader, Mia Finvarb, felt  "The town hall gave both parents and students valuable information to expect during the school year." Certainly academics and the workload are on everyone's mind. But aside from the work, the teachers, administration and even upperclassmen are working hard to put the social aspect back into all of our lives. The School has implemented Community Time for students to talk to their advisory and classmates to help build that connection even with the lack of human contact. The upperclassman presented a comical skit on the do's and don'ts on Zoom. There was a Kahoot played in the advisories that gave an interactive way to answer incoming 9th graders burning questions. 
In addition to the town hall, on Day 1, August 24th, the committee held interactive activities to help students relax, help build a bond with each other and better understand their classmates. There were breakout rooms that held a variety of conversations, whether it be, "What is your favorite thing to do?" "What is something you look forward to this year?" or "What elective are you taking this semester? This is all part of fulfilling the team's goal to improve student to student relationships, bringing us together more.
Cristina Hernandez thinks of freshman year as a time "to prepare us for our upcoming years and gives us a variety of options to learn and explore what we want to be. 9th grade is a whole different monster, a harder workload, more stress and we are learning online which  makes it more difficult."  As a 9th-grade parent (mine, in all transparency), Nakia Bowling shared "Ninth grade really is the start of  your strategic path to the rest of your life."
This year is going to bring many ups and downs.  With that in mind, we urge you to take advantage of opportunities, extra helps, sports, clubs and anything you want to try. Stay involved! Stay focused! Have Fun! Welcome to 9th grade. 
About the Contributor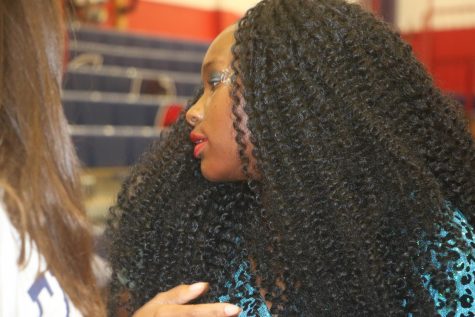 Zoe Terry, Staff Reporter
This is Freshman Zoe Terry's first year on The Spartacus. She is an outspoken advocate for positivity and social justice.