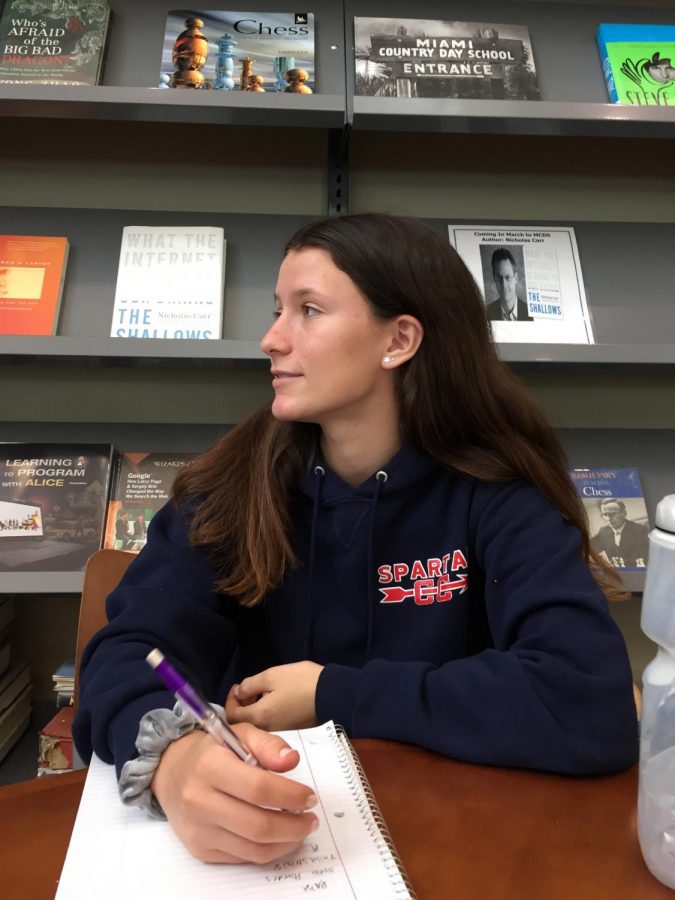 Taisa Strouse is Co-Editor in Chief of The Spartacus together with Sofia Paredes.  This is her fourth year on
The Spartacus,
where she's had various roles, including Sports Editor last year.
 Taisa is on both the Varsity Soccer and Cross Country teams.
Schoolwork is very important to her and English has become her favorite subject due to her interest in writing and reading.
Taisa Strouse, Co-Editor in Chief
Oct 16, 2019
Sep 27, 2019

Dana Vignale Resigns as US Director

(Story)

Apr 16, 2019
May 23, 2019

Miami Herald Awards Spartans Big-Time

(Story)

May 17, 2019

Allen and Pedraza Win Silver Knight Awards

(Story)

Mar 08, 2019

Happy International Women's Day!

(Story)

Feb 27, 2019

On to Finals for Lady Spartans

(Story)

Feb 15, 2019
Feb 08, 2019

Siegler and McPherson Sign to Yale & Nova Southeastern

(Story)

Jan 17, 2019

Spring Sports Are Here! Tryouts Begin Next Week

(Story)

Nov 14, 2018

First Senior Signings of the Year

(Story)

Nov 09, 2018

Athletes of the Week – November 5

(Story)

Aug 29, 2018

Girls LAX to Debut in Spring

(Story)

Aug 17, 2018

Fall Sports Athletes Take Over Campus

(Story)

May 17, 2018

A Record-Breaking Year in Sports

(Story)

Apr 27, 2018

MIT and EASTERN FLORIDA STATE AWAIT SPARTANS

(Story)

Apr 18, 2018

Tennis Champs Take District Title

(Story)

Mar 12, 2018

March 14th Walkout Not Sanctioned…but Allowed

(Story)

Feb 02, 2018

A Turbulent Week for Soccer

(Story/Media)

Jan 26, 2018

New Opportunity for Expression at MCDS

(Story/Media)

Dec 20, 2017

New Schedule: The Verdict is IN

(Story)

Oct 29, 2017

What Dr. Sealey Has to Offer

(Story)

Aug 22, 2017

Senior Convocation

(Story)

May 14, 2017

Nine Things You Learn Your Freshman Year

(Story)