Humans of Country Day
April 16, 2019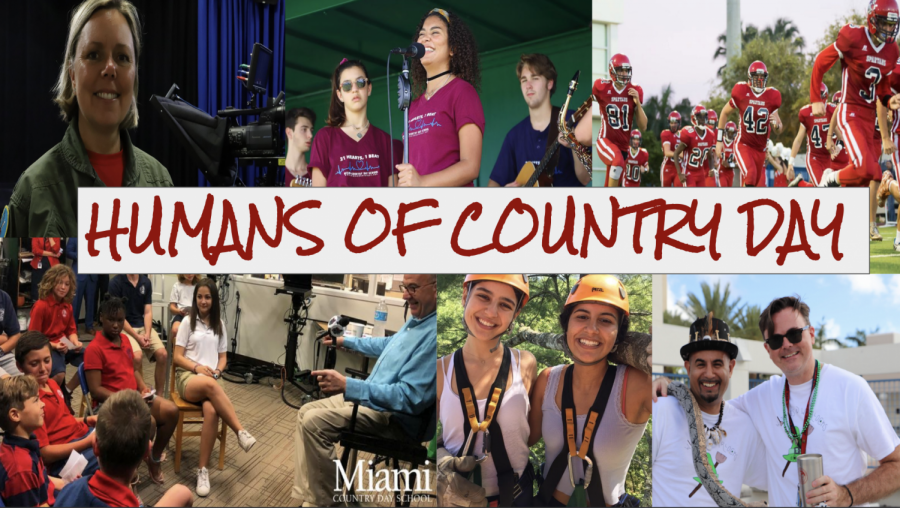 Photograph by Maria Silva
Humans of Country Day, inspired by Brandon Stanton's Humans of New York, offers insight into our outstanding Spartans through photographs, short interviews and videos. This section was conceived of and created by Maria Silva, who continues to write and edit these column reports in this, her Senior year.
Setting the Bar High: Rianna Washington to Mount Holyoke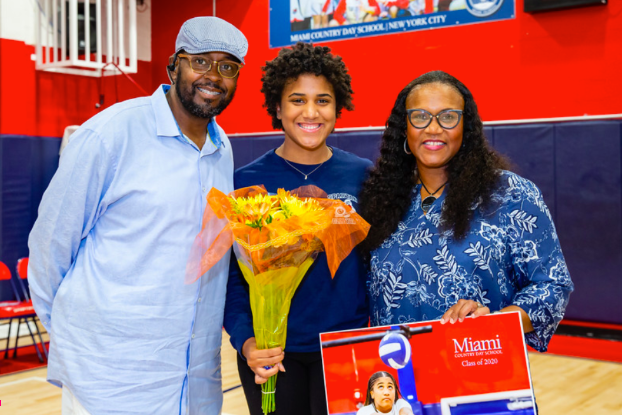 Photograph by open i studio
After 7 years in the spartan volleyball program, Rianna Washington has signed to play volleyball at Mount Holyoke in Massachusetts as a Posse Scholar. 
"I have been playing volleyball since sixth grade. I started playing when I came to Country Day. I was inspired to play volleyball after I shadowed Maddy Sukhdeo in fifth grade and she used to be on the school team. I dreamt of pursuing a career out of volleyball in middle school, but I didn't start taking it seriously and pursuing colleges until tenth grade. I improved my performance over the years by playing on a club team and I would constantly train during the summertime and on weekends. It's pretty chaotic to be a part of a club team because as soon as school volleyball ends, club starts. Club costs a lot of money, you go to tournaments every other weekend, and you practice until late at night at least three times a week. A lot of my proudest moments in my volleyball career come from club. I played for a really small club team and in 10th grade we were a team of only six people, and six are all of the people on the court, so I was constantly playing. That was the year I changed the most as a volleyball player. My first time being a captain of a team was in eleventh grade during club, and it was a team of completely new girls and we went from being pretty bad to getting better and better with every game and practice, so that was just a proud season for me. One of my favorite memories from playing volleyball at school happened this past season. Ashley Michellin and I were the captains this year and I felt like over the season we were losing games because we were not warming up right. We were at a tournament and I had Bella, the only eighth-grader on the team, lead the warm-up and she decided that we would all play cat and mouse as our warm up. That ended up being our best game of the season. To stay motivated in my sport I kind of just look at the bigger picture. Volleyball is a big part of who I am and it could take me to a lot of places. At the end of the day, I play volleyball because I enjoy the sport and I have fun playing. 
I am going to be playing volleyball for Mount Holyoke next year. The way I got recruited was a pretty weird process because it was kind of like two forces working together at the same time. Coach Carpio, who is the coach for Mount Holyoke, sought me out back in the summer before 12th grade year and came to my AAU games. She encouraged me to apply to the Posse Scholarship, so I did, and I ended up getting the Posse Scholarship. Through that, I was able to sign to her team because Mount Holyoke is a D3 school, so they can't offer me any athletic scholarships. My number one school used to be Spelman College, which is an all-girls school in Atlanta. I like all girls schools because it's nice to see women flourishing especially in the computer science field, and I love the history behind all women's schools. When Coach Carpio came to me I had never heard about Mount Holyoke, so I did my research and the college looked amazing on the internet. I went on an official visit back in August where I completely fell in love with the school. To prepare for the season, I am doing private lessons and in the summertime, I will be doing group training. Pre-season starts on August 18th. In college, I am most excited about re-establishing myself somewhere new.  I've been at Country Day since sixth grade, so in college, I want to start a new me. Looking back, the advice I would give myself when I first started playing volleyball would be to decide what you want out of the sport. If you don't put out there what you want you'll never get opportunities afforded to you. In sixth grade, I didn't know what I wanted. I wasn't training as often and I could have been much further ahead if I just started earlier with the whole recruitment process. I honestly don't think I will continue playing volleyball after college. I could see myself coaching and playing for fun, but I do not see myself playing professionally. This year, we were a couple of games into the season and I tore a part of my MCL, so I wasn't able to play for most of the season. My injury made me realize that volleyball is really just for fun. This is something I love to do and it will always be a part of my life, but there are a lot of other things that I like to do as well, so volleyball will not always be my main focus." 
Volleyball Coach Eric Rivera said "Rianna is a student-athlete of great qualities both on and off the court. She is destined to be a great athlete but above all, a great human being that will make a difference in society."
Self-Professed Adrenaline Junkie Takes Flight

"The first time I went skydiving I felt an overwhelming feeling of freedom. You're in the skies and it's an inexplicable feeling. I took my first skydive with an instructor when I was 15 and my first solo skydive when I was 16. In the beginning, I was a little nervous, but I was so much more excited than nervous, which pushed me to cover up that fear and take my first jump. Every time you jump it's different and you experience different things. I would definitely consider myself an adrenaline junkie, and I love all kinds of adventurous activities. I got into skydiving because my dad is a skydiver. I got my A license for solo skydiving by taking a course where I had to do a bunch of different jumps, go through safety procedures, and learn how to pack a parachute. I actually got my license in Spain because you have to be eighteen to get your license in the U.S. It's kind of complicated because most places outside of the U.S. are registered with the United States Parachute Association, so I have my license with the United States Parachute Association, but I can't use it in the U.S.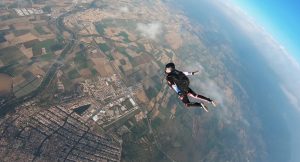 I also got into flying planes because of my dad. He has his private pilot's license, and I've grown up watching videos of him skydiving and flying. I looked up to him and always wanted to fly and skydive as well. I am in the process of getting my private pilot's license to fly smaller planes, which is very different from the license you get to fly the bigger American Airlines type-planes. It's definitely a lot of work and it's hard to balance with school at times. You have to study, take quizzes, and more. I try to practice maneuvers with my instructor as much as I can, I usually go once or twice a week. The process takes time. I am still deciding if I want to pursue a career in this area, but I will definitely always keep flying and skydiving as hobbies of mine. This is a male dominated field, which gives me even more of a reason to keep working towards my licenses and to keep going when I feel like quitting. For anyone who is interested in either getting their pilot's license or skydiving license, I would tell them that it takes a lot of hard work and dedication. These are both life risking activities, so you have to focus and take this seriously." 
Humans of Country Day: Swinging into Success
Griffin Steutel to Oglethorpe University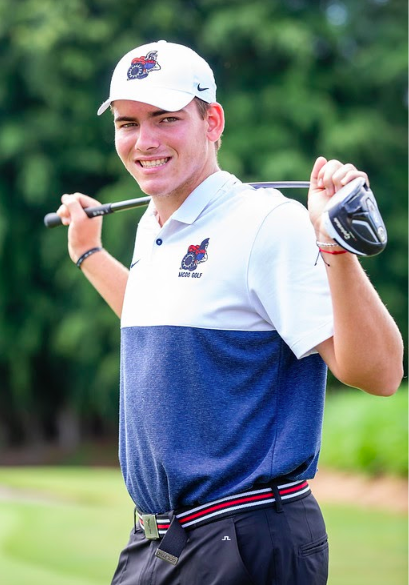 Photograph by Open I Studio
From the youngest kid on the team in 7th grade to captain his senior year, Griffin Steutel is now signed to play golf at Oglethorpe University. 
 "I have been playing golf since I was three. I began playing after my dad first took me out to the course. I grabbed a club and started swinging and he said that I was pretty good. I started taking lessons and from there I developed a talent and love for the game. I started playing competitive golf when I was eight and that changed my whole perspective of the game because it was a lot tougher. I realized that golf was more than a hobby when I was five years old because that's when I could see myself being a pro golfer. I also tried playing all the other sports like basketball and baseball, but golf was different for me. I came to Country Day in 7th grade. Coach Parizo came up to me in the range and gave me a little pitch about Country Day and the golf team and ever since then it has been a great experience. My favorite memory of playing with my teammates has to be my first day of practice in seventh grade. I was the youngest kid there and I was wearing a lot of bright colors. I remember a bunch of seniors were looking at me like, 'Who are you?' Over the years I've become a leader, so it has been interesting to adapt to that as well. I began to help Jaden, TJ, and Sam with their swing and their mental game. This has built into a great relationship, which is mostly about having fun and forgetting all of the competitive stuff. Some of my proudest moments in my golf career were making my first hole in one, having 5 eagles, and winning two tournaments. I have improved my performance over the years by practicing, having a good attitude, and when times were tough, remembering to pick up my head and keep going. To stay motivated I watch a lot of golf, all the time, and I just like learning new things about the sport. 
I got recruited to play golf at Oglethorpe University. The first time that Coach Owen, the coach at Oglethorpe, emailed me was at the start of my junior year, and he said that my resume kind of jumped at them. That gave me a lot of hope that I was going to play golf in college. The process is long, hard, and it can be very stressful. I would email coaches and sometimes they would never email me back. These coaches are looking for some consistency and I didn't have a lot of it. I could shoot in the 60s and high 70s, and it was just a matter of being more consistent, so I was able to show that to a lot of coaches. Coach Owen began to email me and text me almost every day, so that led my decision to Oglethorpe. I finally visited and I had a great tour. Out of all of the colleges that I visited, Coach Owen was the only person who showed me a night tour of the campus, and that really said something to me. To prepare for the upcoming season at Oglethorpe, I have to go to campus in early August because there are ten tournaments in the fall and ten tournaments in the spring. Basically, as soon as I get there I am going to unpack everything, get my gear, and go on my first tournament. In the meantime, I am still training on my own and practicing every day to up my game and to get a fighting spot on the team. In college, I'm most excited for a different atmosphere and a different experience because I have been playing in Miami for all of my life and I want to play somewhere different. For anyone who wants to pursue golf, I would tell them to start young, have a good attitude, and if you're thinking of quitting you have to overcome that hill and believe that you can do it. When it comes to college, I would tell them to be patient because it can be tough. My golf game has led me to a lot of amazing opportunities. I can see myself playing after college because I have big plans and I want to go pro. I know that it will take a lot of hard work and sacrifices, but I'm ready for it."
Golf Coach Bryan Parizo lamented that "to say Griffin will be missed is an understatement. He has been an integral part of the golf team since he joined in seventh grade. Oglethorpe will be getting a terrific golfer but more importantly an outstanding person."