Students Stun at Project Runway
After an hour of taping and scribbling, four students — freshman Alex Saffie, sophomore Sasha Bhardwaj, junior Alexandra Piussan, and senior Amanda Baldor — rose with their teams to meet the judges. Though they were given only a few items (including two hair curlers, a blue plastic tablecloth, a felt mustache, tin foil, a feather boa, and patterned paper among other miscellaneous things), each team created a unique piece that reflected both their personal style and their class's theme.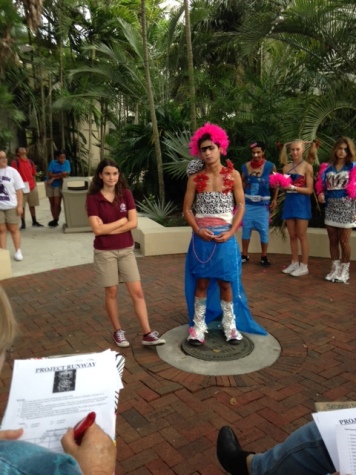 Alex Saffie modeled a bold Michael Jackson and Frida Kahlo inspired outfit. Described as "business in the front and party in the back," his team's piece surprised the judges with its interesting use of the felt mustache.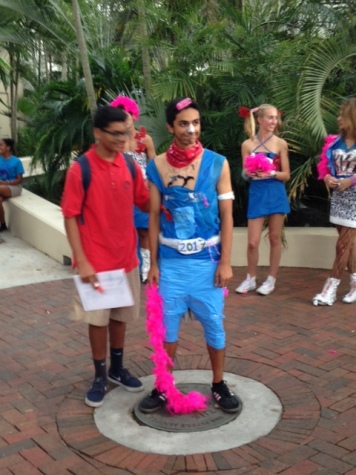 Sasha Bhardwaj's piece, called "post-modern conceptualist country," was a surprise crowd pleaser. The sophomores wished to blend hillbilly and contemporary fashion, and the judges enjoyed it immensely.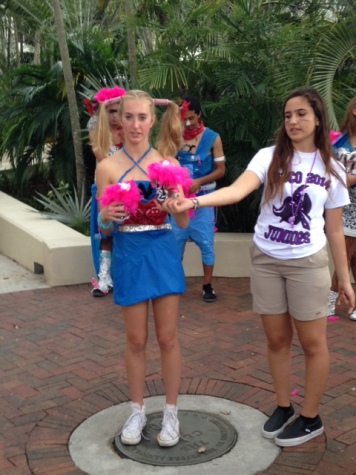 Alexandra Piussan's dress was modeled after the cheerleading uniforms from the movie High School Musical. Perhaps the most school spirited outfit on display, the intricately braided neckpiece impressed the crowd.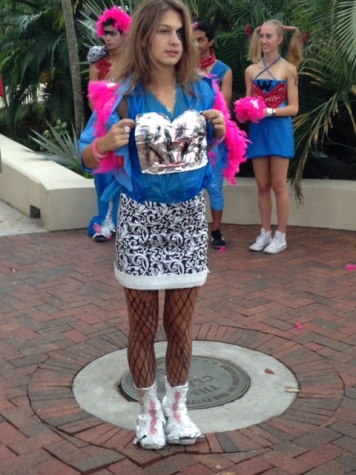 Amanda Baldor stood in for KISS frontman Gene Simmons with a fishnet and miniskirt combination that stayed true to her grade's theme. It was clear the seniors came to win.
The winner of Project Runway will be announced on Friday after the screening of the music videos.