He shoots, she scores!
I am quite sure many students can concur that basketball is always one of the most anticipated events of homecoming week. However, do you think the seniors method of choosing the juniors first was worth it?  There was a lot of speculation as to why the seniors opted to play the juniors. The seniors,by word of mouth, said that they did NOT want to take the risk of losing to the sophomores in the first game. Needless to say, the juniors really put up a fight against the seniors, by closing their lead of 5 points to 1. 3.5 seconds were added to give the juniors a chance to win,however, it  was just not enough for the win. Finally senior, Michelle Berry, scored two points to give the seniors the win!
The freshmen went on to play the sophomores,  and without hesitation the sophomores advanced to play in a much anticipated game versus the seniors. The sophomores played the game very calm and collectively, and at one point, extended their lead to 7 points with 3 minutes to go. The seniors pushed to find answers, but were denied.
So the results are as follows:
Sophomores-1st
Seniors- 2nd
Juniors-3rd
Freshmen-4th
About the Contributor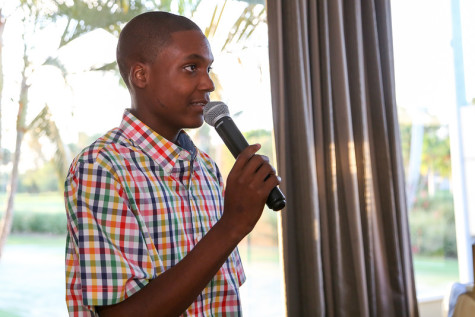 Dwight Spencer, Writer
Dwight Spencer Jr, class of 2016 president, is in his Senior at MCDS. When not fulfilling his duties as a student, Dwight can be seen as the orotund "Voice...