New Teacher Profiles: New Chess Teacher Hopes to Lead Team to Victory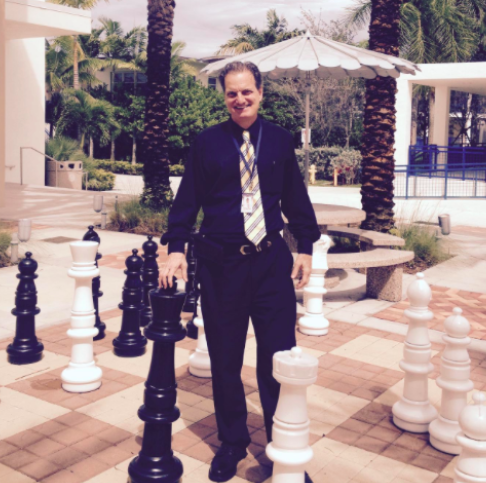 You might have seen Grandmaster Ron Henley around campus. He is the tall one wearing a suit and tie and holding up the chess trophy for our school's team. What you might not know is that this is Henley's first time teaching chess at a school.
"I love it how the school cares about the chess program and that there are many talented players," Henley says about the students here at the school. In 2014, Henley helped win this school's second consecutive Florida State Team Championship for K- 12. Now he is the first Director of Chess at MCDS.
Henley's grandmaster status was awarded to him during a tournament in Surakarta, Indonesia. The World Chess Federation, also known as FIDE, awarded him as grandmaster. FIDE awarded him because he had jointly won a 26 man tournament by defeating another grandmaster, Tony Miles.  In the same year, Henley was on the cover of Chess Life. Henley has a rating of about 2450 to 2500. "If you play in a tournament and beat a player that has a rating about the same as you then you get plus sixteen points to your rating. If you beat someone who has a better rating than you, you get plus sixteen points times four percent of the difference of the rating, but there is a cap at 350 points," Henley explained about the point system created by Arpad Elo.  
Henley grew up having a passion for chess. He started at the young age of seven and played in his first tournament at fifteen. He continued to play in contests, but he has stopped attending them to play. Although he does not participate any more, Henley went last year to play in one. This tournament was the Florida State Championship last year where he came in second place.
Grandmaster Henley is a perfect fit to teach at this school. He really likes the school and the students that he teaches. Mr. Henley is liked by his colleagues and his students. Mr. Konen, one of the former sponsor of Chess said, "He is a really nice guy and a great guy".