What Film Should Take Home the Oscar? The Case for Moonlight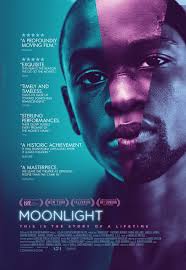 In her DNC convention speech last July, there's one thing Hillary Clinton said that really stuck with me: "America is great, because America is good." I think omitting both 'Americas' from that statement and replacing them with 'Moonlight' nicely captures some of my feelings regarding Barry Jenkins's masterpiece.
Clearly 'Moonlight' looms large; critics adore it and it will compete for 8 Oscars this sunday. Moonlight is great, and I have no doubt in my mind it will be remembered 50 and 100 years from now. But beyond its greatness, Moonlight is good; its protagonist Chiron is dealt some of the most awful cards of life – he's black, gay, poor, his mother is a drug addict – and he's given no resolution, no rise and fall, no character arc. For 150 minutes he lives his life. Change comes completely naturally.
All three of the actors who portray Chiron feel like the same person because they aren't. Director/Writer Barry Jenkins wouldn't let the three actors meet until after filming, because he didn't want any of them to pick up any gestures or mannerisms from the others – we got to witness something wonderful, watching Chiron evolve organically. As a storyteller, Jenkins became as absent as he could. There is nothing artificial, nor character developments that mostly serve the films plot – there is just life. And the rare opportunity to witness and be a part of a life is and teaches us to be good.
I can't ignore how close to home Moonlight is because that definitely adds to my adoration of the work. Both director/writer Barry Jenkins and the Playwright who inspired the film Tarell Alvin Mccraney grew up in Miami. Mccraney was also at one point part of a Theatre Troupe called Voices United, of which I was a member when I was younger. Seeing characters Chiron and Kevin hanging out on the South Beach boardwalk where I sometimes go for runs made me shrink back into my seat. To know that some of the decade's best Cinema happened here, in my home, was incredibly validating. The era of 'Moonlight' may be the first time I've felt a true sense of pride in my being from Miami.
I also have to acknowledge the Sunday Night Frontrunner that is the ode to classic movie musicals and the film industry 'La La Land.' It's going to win, no question. Academy readers certainly aren't reading my piece, and if there's two things they love it's big musicals and movies that celebrate the industry. La La Land was beautiful in its own way, full of vibrant colors, spectacular dance numbers, a wonderful performance by Emma Stone, and a lot of fun.
To put my two cents in, some of La La Land's 14 nominations feel excessive – if it were to beat a film like Manchester By the Sea for best original screenplay, I would be stunned. And while its cinematography is understandably tempting, James Laxton's use of light and angles for Moonlight feels much stronger, as does Bradford Young's work on Arrival. Not to write a hit piece on La La Land, which after a second viewing I found to be really enjoyable, but I really hope Academy voters decide to share their love with some of the year's other great films, seeing that 2016 was an epic year for the movies.
Regardless of what occurs on Sunday night, I feel blessed. Miami has its first true masterpiece, too paraphrase the Miami Herald (Yeah, take that Scarface! You're garbage!), and it's made in part by Miamians. The talented ensemble of Moonlight is a blessing, all of them delivering poignant and memorable performances. Moonlight really is, for the time being, one-of-a-kind, which for any filmgoer, is a blessing. Its stunning visuals, editing, and cinematography, as well as its chilling but well-fitting scores, are blessings. To have Moonlight in our lives, a film that is both great and good… well, what more could we ask for than to be blessed in such a holy way?