Silver Knight Night Victory!
Just being nominated for a Silver Knight is quite an achievement.  Winning is a prestigious honor. This month, three Spartan Silver Knight nominees succeeded in winning awards.
Of the 717 recipients,  there were only 30 Silver Knights:  15 from Broward County and 15 from Miami-Dade.  Two of those Miami-Dade recipients were ours. Besides the prestige, winners Rachel Thomas and Daniella Geathers each received the Silver Knight statuette, a check for $2,000,  and 25,000 American Airlines Advantage miles. Danielle Amoils, received a plaque and $500 for Honorable Mention..
The Miami Herald Silver Knights program honors a student who extends beyond 25 hours of mandatory community service. The community service projects these students develop competence in one of the fifteen categories, art, athletics, business, digital and interactive media, drama, English literature, general scholarship, journalism, mathematics, music and dance, science, social science, vocational techniques, and world languages.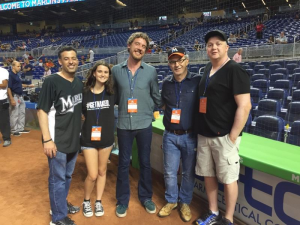 Rachel Thomas, Silver Knight of the Science category, has done everything to raise money and spread awareness of Melanoma. She partnered up with the Melanoma Research Foundation and brought it to the Miami Marlins Melanoma Research Foundation Night. After three years, this benefit has raised over more than $20,000. Her perseverance to help the cause does not stop here, Rachel edits public service announcements, informs her peers, reaches out to local doctors, and even goes door-to-door selling tickets to the event she has organized. This event initiated after her cousin passed away from the deadliest form of skin cancer, melanoma. She provides a team where tables are set up with pamphlets about melanoma, sunscreen, and organizes a pre-game ceremony for melanoma patients. Rachel Thomas' achievements do not stop here, and she has been awarded Director's Service Award from the Melanoma Research Foundation for Outstanding Service, recognized by the Miami Marlins, in the Science Honor Society, and class of 2018's salutatorian.
Danielle Geathers is the Silver Knight of the Athletics category this year. Her love of sports strongly relates to her fascination with science, technology, engineering, and math. When Danielle was a child, she rewatched the movie "Ice Princess" many times to attempt to study the how the main character was able to accomplish triple axel jumps. This lead to her teaching STEM subjects through athletics at Gwen Cherry Park, as she wrote first lessons from ESPN Sport Science videos to teach a class of 25 pre-teen boys. The classes she ended up teaching involved nutrition, collision, momentum,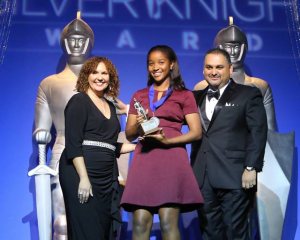 angles, and forces. Danielle strives to help African American boys gain a better education by including their interest in football, for a brighter future. "In reflecting on my Sports Science class, I am left motivated to take action to improve the systemic failures remaining from segregated schooling" Danielle empowers. The NFL Youth Education Center at Gwen Cherry began to incorporate what Danielle taught her students in their summer schedule. Not only does she teach and tutor, but she is also an author of her book, "Don't Touch My Hair" which she wrote encouraging girls to love and embrace the texture of their natural hair.
Danielle Amoils was awarded an Honorable Mention in the Art category. She organizes drives to collect everything from art supplies, clothing and athletic equipment to help children in South Africa find their voice through art. Not only does she help the children in the village of Langkloof, South Africa express themselves with art, but the foundation she works with called H.O.P.E (Help Other People Endure) now feeds up to 350 kids in the village everyday.
The last year MCDS won a Silver Knight award was in 2015. This year MCDS bring home two successful recipients and an honorable mention. Each of the nominees has mentioned continuing efforts to help their communities as they move onto college. The world needs more people like these recipients who care about their community. Once again, congratulations!