New Club Brings Awareness to Student Safety at MCDS
On the one year anniversary of the Parkland shooting, Sophomore Jordan Sheppard took the initiative to improve student safety at Miami Country Day.  She introduced a new club, Make Our Schools Safe (MOSS), adding MCDS as a chapter of the nationwide organization which is dedicated to implementing and expanding safety protocols in schools.
Lori and Ilan Alhadeff, who lost their 14-year old daughter Alyssa in the Parkland shooting, founded MOSS with the mission of ensuring that no other parent has to endure the pain they live with every day. By preparing students and staff for any safety scenario, Mr. and Mrs. Alhadeff feel that they can make a difference in schools across the country. "Our mission is to improve the safety of schools, research and test best practices, as well as implement those protocols by creating model schools, beginning in South Florida and spreading nationwide."
Jordan's best friend was there that fateful morning in Parkland. As a student at Stoneman Douglas, she experienced the horror of being in the classroom right next door to the shooter, "I saw how traumatized [my friend] she was," said Jordan, "That was a huge wake-up call for me.
"
I just felt like I needed to do something and join the movement. "
— Jordan Sheppard
Jordan then decided to take the initiative and introduce MOSS to our community. Over the last few years, MCDS had taken many precautions to create a safe environment for students and faculty. According to Mr. Oronoz, the Head of the Safety Committee, "the most important thing is the training and constant evaluation of our drills which have been ongoing throughout the year."          
Over the last five years, the school hired two companies to perform safety audits to assess what's working and what needs improvement in terms of protocols and procedures. Of course, safety is an organic process and changes as society does.
Over the years we have had to modify our emergency handbook to improve student safety at MCDS. "We used to do a lot of evacuations or fire drills," Mr. Oronoz said. "Now we are doing more lockdown drills, adding layers of complexity to the system we already have in place. By improving these lockdown drills, members of the Country Day community now feel more prepared for any emergency."
"Safety matters," is somewhat of a mantra here on campus.  But, even so, Mr. Oronoz has agreed that there are still more efforts to be made, so Make Our Schools Safe has been working closely with the safety committee at MCDS to bring awareness to these new protocols. They also play a substantial role in creating a more vigilant student body. Mr. Oronoz feels that "training the students on the aspect of 'if you see something, say something' is extremely important", as well.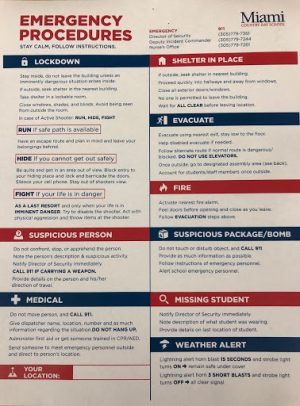 The Marjory Stoneman Douglas shooting made many students realize just how much training they lacked in terms of emergencies. One of the club's core missions is to empower students everywhere to become school safety advocates. By raising awareness to the dangers of being unprepared, Jordan hopes to "make a case to prevent events that we shouldn't have to be worried about."
In other parts of the nation, Make Our Schools Safe has been dedicated to promoting Alyssa's  Law, which requires the installation of panic buttons in school buildings and classrooms that would silently alert law enforcement to life threatening situations or emergencies. MOSS has already succeeded in passing this law in New Jersey and it has been introduced in the Florida legislature during this current session by Representative Lauren Book of Plantation. Her bill would require all Florida public schools to install panic alarms, or silent security signals, linked to each school's designated first responders.  Working toward getting this law passed will be a goal for the MCDS MOSS club, hoping that we do our part to ensure a faster response time in Florida, which could, in the end, save more lives.