Buttigieg Tops Dems and Ties with Trump
What's Important to Spartans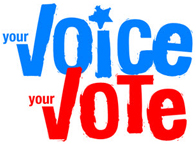 Throughout this year, we'll be posting stories to keep you informed about the candidates, policy proposals and what you can do to get involved.
While Miami Country Day School students, at their young age, may not think health insurance matters, but the Democratic candidates for President devoted much of the last debate to the future of our healthcare system. 
At center stage of the Houston event hosted by ABC, front runner and former Vice President Joe Biden sparred over this issue for the first time on Sept. 12 with his closest competitors: U.S. Senators Bernie Sanders and Elizabeth Warren. Despite calls for unity, sharp disagreements erupted between these top Democrats. Biden pushed his moderate policy to build on Obamacare while protecting private insurance and establishing an opt-in system for Medicare coverage. Sanders and Warren advocated the progressive Medicare-for-All agenda that would abolish private insurance and put healthcare completely under the control of the federal government. 
Both progressives and moderates repeatedly called out inconsistencies in their competitors' plans. "For a socialist, you've got a lot more confidence in corporate America than I do," argued Biden, responding to Sanders' claim that corporations would use funds they once had for employee insurance to improve workers' wages and other services. 
As the pair of left-wing Democrats primarily targeted Biden, underdog candidates such as former Rep. Beto O'Rourke brought up policies to combat gun violence, an issue that resonates with many at MCDS who work with the Make Our School's Safe club launched last year. "Hell yes, we're going to take your AR-15, your AK-47," said O'Rourke, when asked about his proposal for a mandatory government buy-back of all assault-style weapons. O'Rourke's passionate declaration came only a month after a deadly mass shooting killed 24 people in a Walmart in El Paso, Texas, his former congressional district. 
Sen. Cory Booker shared similar strong sentiments on gun control while also detailing his proposal to fight the climate crisis, an issue affecting communities such as Miami that are threatened by rising sea levels and a host of other environmental problems. Booker went into detail about his controversial $3 trillion plan to create a 100 percent carbon-neutral economy, end factory farming, and ensure justice for marginalized communities affected by the climate crisis.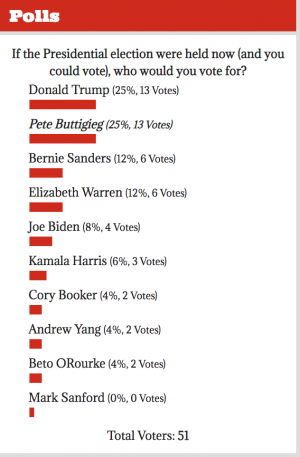 LEANINGS HERE AT MCDS:
Many national issues addressed by candidates in the 2020 presidential race personally affect students at MCDS. Yet, how many students actually discuss national politics with their peers at school and even have preferences towards certain presidential candidates? How many students will be getting involved?
A poll sent out by The Spartacus days before the debate garnered only 51 of the possible 452 Upper School students to respond. The poll included two Republicans: Trump and his declared opponent former Governor Mark Sanford, with Trump on top throughout the duration that the poll was open (until September 19).Pete Buttigieg, a moderate mayor hailing from the red state of Indiana, was the most popular Democrat of the 10 presidential candidates presented in the poll. 
Lack of political interest could be the reason for the limited participation in the poll. "It's not talked about a lot," said student body president, Jack Finvarb. "That's a problem." Finvarb believes that it takes a certain individual to be concerned about politics at a young age. "I feel like they have to have a very strong connection to their community and their school. And they want to make that difference. But I do think that the students have to have some level of participation." 
Ms. Kelly, the SGA advisor and a longtime teacher at MCDS, shares similar sentiments on why politics isn't a hot topic among teenagers. "Teenagers, by nature, are selfish," Kelly said. "It's difficult for a lot of teenagers to think outside of themselves and that's age appropriate. They have things like college to worry about." 
Kelly does pay close attention to students' occasional political discussion to gauge what youth care about. "I find that the kids are really concerned about things like the environment and school shootings," Ms. Kelly said. "Sadly, things are happening that affect more teenagers now since when I was growing up." 
Even since last year, political activity has grown within the school with early voter registration now available to students 16 and older at certain times of the year. Groups such as the Make Our Schools Safe Club launched after the school shooting in Parkland, Florida, and student-organized activities such as climate action rallies reflect a growing trend in political involvement within the student body. "Yes, that's great that you're dealing with these things earlier and becoming more aware and more community minded younger,"  Kelly said, responding to a question on what she thought of this trend in the student body. 
As our nation approaches another important presidential election in 2020, the challenge at MCDS will be finding the best way to motivate students to get politically active since many issues they care about are being passionately debated among the candidates. 
"I would love to see an education for the kids on politics, about candidates, actual ideas, and plans, rather than their names and political affiliations," Kelly said, referring to what political groups at the school could do in regards to sparking political interest in the student body. "This is so the kids can form an educated opinion, based on what they believe and what their values are. I don't think it's our place to tell the kids who to vote for. But I definitely think it's our place to tell the kids what each candidate stands for. And make them understand that they have to vote." 
Finvarb believes in a student-to-student approach to get more voting age students to participate in primaries and the general election. "The best way to do that is to have those people who do feel that way, of having a strong connection to their community, kind of leading them [the students] in that direction," Finvarb said. 
Kelly stresses that the voice of the youth, especially at MCDS, is more important than ever in this upcoming election season and that young people must participate from the local to the national level. "It's good that kids are more aware," Kelly said, "because you really are the future."
About the Contributor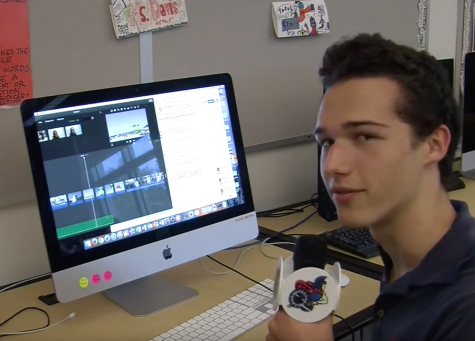 Andrew Weaver, Campus News Editor
Andrew Weaver is a senior at MCDS and he is thrilled to serve as Campus News Editor this year. Since joining The Spartacus in his junior year, Weaver has...