Instead of Walking, We'll Be Rocking!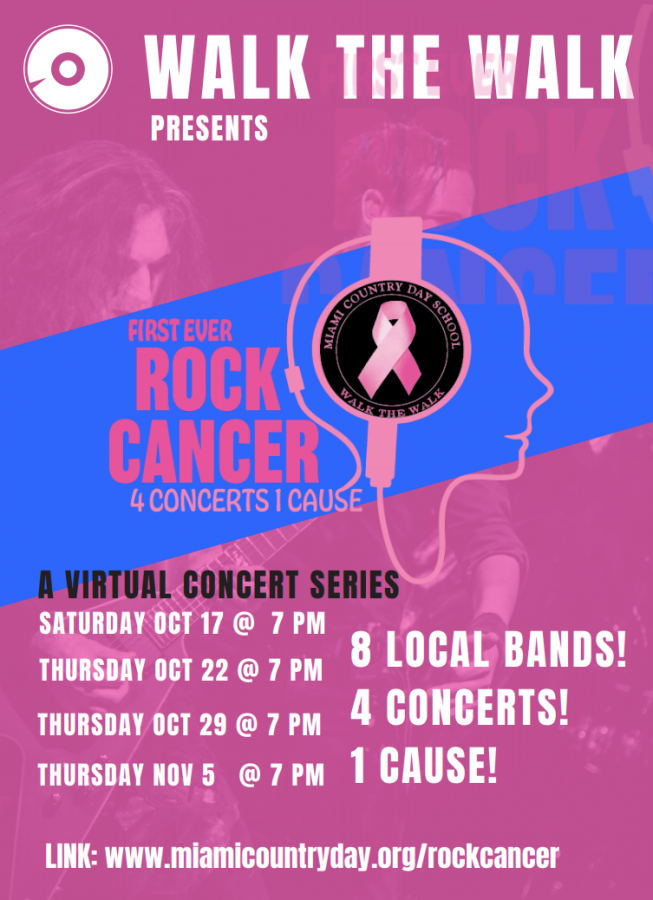 UPDATE: To see all concerts once they've premiered, click here.
Confronted with having to cancel all social gatherings due to COVID-19, the MCDS Cancer Awareness Committee needed a new plan to replace their annual "Walk the Walk" event which has taken place for 21 years every October. 
According to Belle Greenberg, a Co-Chair on the committee, "Concerts have always been a really good way to bring communities and people together, especially now where we're in a time where people haven't been able to go to live concerts and hear live music in a really long time."  So they brainstormed and came up with a plan: a music festival in October, Cancer Awareness month, and a postponement of the annual walk until April 2021, when we may be able to be in-person, all together. Ultimately, it was Belle's idea that won out: The ROCK CANCER CONCERT SERIES  is a 4-concert online event during which eight student-led local bands will be performing. As the Executive Producer of the concerts, she worked tirelessly with the committee Chairs, sponsors Marilyn Greenfield and Kay Lombardo along with Broadcasting teacher Karen Davis who was brought to help with the scripts, recordings and editing.  But it was her convincing the bands to come on board that made this event come to life. "We were surprised at how readily and quickly they all said yes!" she enthused.
"Most bands that are participating have also been affected by cancer in some way, shape, or form. And so that's why they're wanting to participate," Kay Lombardo, mother of Jack Lombardo, a senior who was diagnosed with leukemia in 8th grade, told us.
The ROCK CANCER CONCERT SERIES will not be an exclusive "Spartan" event; the virtual concert will also be available to cancer patients in pediatric oncology wards, as well as anyone who has the link. The event will "bring a little bit of just a break for those cancer patients in the hospitals and/or at home and just let them know that there's a lot of people who are supporting them and thinking of them. It's to brighten up their day a little bit with these bands," explained Kay Lombardo.
In the past, the events have raised over $800,000 and have given local doctors much-needed funds to seed their research. This year, the club is changing its donation distribution. In previous years, the MCDS Cancer Awareness Committee has given 100% of its funds to Sylvester Cancer Research Center. Instead, this year, 45% of the funds will be donated to Sylvester Cancer Research Center, 45% to Joe DiMaggio Children's Hospital and 10% to the Spartan Relief Fund for families that have been impacted by COVID-19. The donation site will be open for everyone from October 17th until the April Walk the Walk. The website address will be publicized throughout the concerts. 
Ultimately, the ROCK CANCER CONCERT SERIES is meant to bring people together as Kay mentions, to "enjoy…and hopefully …inspire them to think a little bit more about cancer and how it affects everyone…[but]without the fundraising, researchers can't do what they need to do to fight cancer."
Additionally, MCDS students who attend will receive service hours for watching the concerts.
As a cancer survivor, Jack is committed deeply to "continue educating people throughout the month of October." Students, families, friends and patients will be able to enjoy originals by the student-led Miami bands and then vote for the band they'd like to join our own CME during the WALK THE WALK event in April. You can find the poll on "The Spartacus" website and voting will be open from Oct 17-Nov 6. Vote as many times as you'd like for the band you want to see again. The band who gets the most votes by the end of the ROCK CANCER CONCERT SERIES will be brought back for a live performance.  Click here or link below to access the virtual concert is linked below and all you have to do is click it at the assigned time and you'll be taken to the concert. This link can be sent out to families and friends, regardless of where they live. Anyone can enjoy and show their support. 
www.miamicountryday.org/rockcancer