NHS Revealed!
"What's NHS?" students questioned during last Wednesday's assembly. With not one student able to give a proper response, it was clear that the National Honor Society, one of the most prestigious societies on campus, may well as be a secret society.
In past years, the induction ceremony for the National Honor Society took place in the Student Activities Center at night rather than in the gym during assembly period. Only old and new members, along with their families were invited to the induction, in comparison to the ceremony taking place in front of the entire upper school as it did this year. However, with fewer students having an idea about the National Honor Society, Mrs. Sachs, the NHS sponsor since 2009, wanted to make the society better known. Mrs. Sachs explained that "many ninth graders do not get the chance to hear about the National Honor Society because it is not very visible on campus." By having the induction in the gym, she continued, more freshman and sophomores will be motivated to earn good grades in order to qualify for the society by their senior year.
Moreover, the students learned about the specific requirements needed in order to be considered. Unlike other societies that require students to be in honors or AP for the correlating subject (i.e. art, Spanish, English), for NHS, students must be in grades 10-12, have a GPA of at least 3.5 (without any 'C's' or below), not be on probation, and have all service hours completed before invitations are issued. Following the ceremony, Mrs. Sachs clarified for The Spartacus the process by which students are invited to the society. First, Registrar, Ms. Romanik, sends a list of students with a GPA of at least a 3.5 to Mrs. Sachs. Mrs. Sachs then removes students who have earned a 'C' at the end of the preceding school year. Finally, the revised list is sent to Mr. Oronoz and Mrs. Sennett to check for probation and service hour issues.
Unfortunately, not all students who meet the requirements are consistently invited to apply to the National Honor Society. For example, seniors Danielle Saad and Connor Space both maintained a GPA of 3.5 throughout high school, never earned a C, and were not on probation or missing their service hours when invitations were sent. Mrs. Sachs concluded that if a student is not invited to the society, their name must not have been included on the original, unrevised list. It is evident that human error can occur at any step of this procedure. Interestingly, a student who had earned a 'C' as their year grade was invited to apply to the National Honor Society. However, after reviewing the requirements and noticing the "no C" policy, the student chose not to go forth with the application. Therefore, if you feel that you should be given the opportunity to apply for National Honor Society, stop by Mrs. Sach's room to ask if you should have received an invitation (upper school 211).
Hopefully, with new knowledge, more students will apply to NHS next year, and with the same reasoning as senior Ryan Amoils. Ryan explained that he joined not for the sole purpose of putting the society on his college applications (he actually did not include it), but for the purpose of giving back and providing service to the greater community.
About the Contributor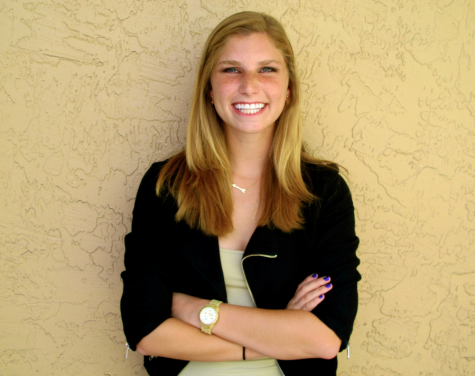 Jaclyn Lash, Spartacus Writer
Jaclyn Lash, a member of the class of 2015, has been at Miami Country Day School since sixth grade. As a rising senior, she was elected to office as the...