Park and Ride…
A 6 month adventure , similar to Walt Disney World.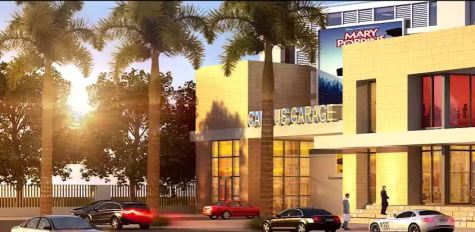 In anticipation for the Parking Deck scheduled to open in August 2015. There will be no more parking at the church next semester.Photograph by Zyscovich Architects
Yes! The church will no longer be the safe haven for your precious cargo next semester. If you think the church is far. Think again. Effective Monday December 15,2014  students, and faculty who do not receive a spot on 107th st will now park at a parking lot  between 111th and 115th street , and between NW 5th and 6th ave (near Barry University).For those of you are a familiar with interstate 95 , going north. The parking lot where you see the Barry tower is where parking will be held for the rest of the school year. Google Maps' reports 0.8 miles from MCDS to the church and 2.8 miles from MCDS to Barry University. So if you were also contemplating on just walking to get your car, be prepared.
The reason for the "sudden" change is simply due to the fact that Miami Shores Presbyterian Church cannot hold 250 + parking spaces for MCDS' students and faculty, as well as provide parking for their parishioners that is needed whenever they have an event (such as a funeral, which cannot be anticipated in advance) .  In those instances, the church officials would need most  of the parking lot, which would inevitably displace students and faculty, causing the school to need an alternative parking lots for all of those days.
While over at Barry, your vehicle will be secured just as if you were parking at school. In this case you are parking at another school . A guard and Miami Shores Police Officer  will be placed at Barry watching your car from the first vehicle  that enters the lot until the last vehicle that leaves. The standard time for the shuttle (3 buses)  will run from 7:00 am – 8:00 pm in 15 minute intervals. Now you may be wondering, "what if I need to be at school after 3:30?" The special event parking lot and 107th Street will be available on a first come, first park basis.  The special event parking for parents and visitors holds 45 spots, while 107th street parking holds a little over 120 spots. In the event  there are multiple crossover events happening on campus at night, St Rose of Lima's parking has been used in the past and could be an option in the future.  The shuttle service timing will be extended to accommodate for these events.
Though some students and faculty members may find the distance between Barry and MCDS unsettling, after Mr. Oronoz and Coach Sennett explored all of the options, parking at Barry
proved to be the best method. The pool parking lot will soon serve as the drop off and pick up location whether you are being picked up/ dropped off by bus or car(instructions are to come in the near future).   The other option that was considered was to split into two groups, one group parking at the church and the other group parking at Miami Shores Country Club. However, when Mr. Oronoz and Coach Sennett took a test run to see whether such a plan would be effective, they found that the round trip shuttle time would be much longer since there would need to be two stops every time the shuttle picked up or dropped off drivers.  At that point it was clear that everyone parking at Barry was the best option.
"I have seen MCDS start from the little things to a more beautiful campus "says Mr. Oronoz. This is the best  and most cost effective option for the school to have students and faculty park at Barry. In the great words of Benjamin Franklin, " he that can have patience,can have what he will."
An official announcement has been made , see Mr. Oronoz if you have questions .
Attendance and tardiness will be clarified at a later date.
About the Contributor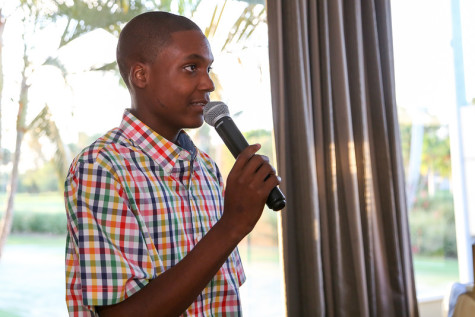 Dwight Spencer, Writer
Dwight Spencer Jr, class of 2016 president, is in his Senior at MCDS. When not fulfilling his duties as a student, Dwight can be seen as the orotund "Voice...