Take your time(do it right)
The first single that was produced by SOS Band speaks volumes to what is currently happening with the transformation of our campus. The reason for building a parking garage is not only to help our school as a community, but to address the issues that have arisen about traffic and campus parking concerns with Miami Dade-County regarding MCDS. As many of you know, the school is building a 300 space pre-cast parking garage. It was expected to start in January, but now is expected to start late March – early April.
A huge delay in the processing of the permits has pushed the delivery date back until February 2016, a 6 month postponement. This date is when we are allowed to use the parking garage. The garage is still set to be completed in August.  While Miami Dade County's permitting and inspections center originally did not require for us to have a sprinkler system in case of an emergency, now the Fire Marshal has decided to require us to have a sprinkler system in both the Center for the Arts (CFA) and Parking Garage because of the close proximity between the structures. The county gave clearance for us to build the water system that will run through both buildings. In this case, the CFA has to be far along in construction, so that the sprinkler system can be started with this building, and then installed in the garage. At some point in February is when students, faculty and staff will be able to use the garage.
Meanwhile, many have wondered why no one has been permitted to park in the North Lot these past two months since construction has not yet started. The problems that have taken place over the last three months is a key reason as to why no one has been able to park in the north lot. The land in the North Lot is so bad, that the school was debating whether to redo the landscaping or place pilings into the ground so that both structures are able to be built on top. They have chosen to place pilings in the ground to refrain from postponing the garage and CFA any longer.
Of course this has taken a great toll on many of the students, faculty, and staff that currently park at Barry, a nearby friend's house, or at one of the local businesses across the street.  "Driving past the north lot for the past few months, with no work being done, has been extremely frustrating," says Upper School English teacher Ms. Whittington. Ms. Whittington, who lives forty-five minutes away from school, would need to add thirty minutes to her commute if she was parking at Barry. She has made arrangements to park within walking distance, but is opting not to discuss any further. "As a rising senior, I feel its unfair, as it is not being done when promised," said Sam Cohen, who, like many other students, will continue to pay a fee to park their cars across the street, an unexpected financial gain for those business owners.  Aguila Supermarket's owner, Jose, said, "I expected the parking garage to be done on time, but the money will continue to help me grow my business with renovations and whatever I need."
While parking spaces are limited, the school has secured the designated off-site parking facility at Barry University for  students, families, faculty, and staff. There will continue to be parent and special event parking in the North Lot and eighteen spaces in front of the South Guard Station on 107th Street, all which will be on a first come, first served basis. To improve the shuttle service from Barry, an extra bus will be added. "We understand the inconvenience this causes," said Dr. Davies in a statement, "and we have focused our efforts on making every accommodation possible to ensure a smooth experience for our community."
Many understand that with improvements, come sacrifices. And for the most part, many people are willing to make sacrifices for the betterment of our community!
Campaign.Miamicountryday.org
About the Contributor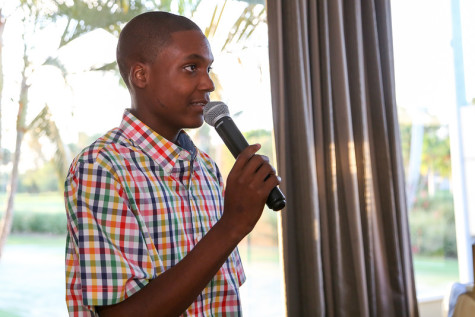 Dwight Spencer, Writer
Dwight Spencer Jr, class of 2016 president, is in his Senior at MCDS. When not fulfilling his duties as a student, Dwight can be seen as the orotund "Voice...