Students Compete in Miami Herald's Silver Knight Awards
UPDATE: Congratulations to Silver Knight Award WINNER Connor Space, Honorable Mention Ryan Amoils, and nominees Madison Bolton and Grace Goldsmith!
Anyone who has spent some time with Ms. Dorn has probably heard of the Silver Knight Awards, a yearly competition held by the Miami Herald. Silver Knight honors seniors in high school from around the city in 15 different categories, giving awards to students who exemplify "service, achievements, character, leadership and interview skills."
According to their website, the process of applying for this distinct honor is a lengthy one, that includes a 20-page long application and an interview before a panel of judges, mentioned before as one of the factors in determining the winner of an award.
The 15 categories that a student can be nominated in are Art, Athletics, Business, Drama, English & Literature, General Scholarship, Journalism, Mathematics, Music and Dance, New Media, Science, Social Science, Speech, Vocational-Technical and World Languages.
This year, 4 students from MCDS are nominated: Grace Goldsmith in the category of English, Connor Space in the category of Drama, Madison Bolton in the category of Social Studies, and Ryan Amoils in the category of Business. Ms. Dorn is our school's sponsor for Silver Knight, and she leads the nomination process to select which students participate, helps with their applications and prepares them for the interview.
"A student who gives back to the larger community and also maintains a GPA of 3.5 or higher is making a personal sacrifice to help others," says Ms. Dorn of the nominees. Each of the students has done different things that she finds worthy of an award. "Through Madi Bolton's Silver Knight packet more people outside of the MCDS campus know about student involvement with the Miami Rescue Mission, through Connor's work with GSA and LGBT, more people outside of MCDS now know what students are doing to fight discrimination. People had not heard about the village of Langkloof in South Africa, but Ryan Amoils has now brought it to their attention, and Grace Goldsmith is keeping Model UN alive at an area school."
Connor Space, who is nominated in Drama, has been performing community service from the start. "When I was a freshman, Tiffany Kontoyiannis won the Silver Knight in the category of drama for her work with bullying, and I had a very similar goal and performed similar community service" he notes, "a Silver Knight award might have been kind of something at the back of my mind, but I really didn't know I wanted to apply until senior year."
He also adds that "One of the great things about silver knight is that the category and the service do not have to match up. My service is kind of loosely connected to my category of Drama, I've been in a couple plays, some of which have dealt with things like bullying and LGBT, but I certainly wasn't doing plays as my primary service."
Connor representing MCDS GSA alongside Evan Iaslovits, Madison Gallup,
Kanesha Petit-Phar, and Josh Rivas, four members of the class of 2014
Grace Goldsmith, who is nominated in the category of English, says that "Ever since 9th grade at the service awards assembly when the nominees were being recognized, I knew that Silver Knight was something I really wanted to be a part of." As the head of Model UN at our school, Grace spent time working with kids at Cushman with learning differences teaching them all about UN, i.e. how to write a position paper.
Connor says he spent "Maybe 75 + hours working with Ms. Dorn. It's a big commitment. You start out just answering questions, you have to write A LOT OF ESSAYS, revise them with Ms. Dorn, put together lists of things you've done, and when you finish that application, you have to put together about 12 pages of pictures and/or documentation of what you've done. It winds up being an over 20-page application."
Grace adds that "The [application] process was extremely meticulous; everything on your silver knight packet must be exact. My interview went extremely well and I felt completely prepared (thanks to Ms. Dorn and the other teachers that volunteered to conduct mock interviews). It is a very long process but nothing beats the feeling of seeing all of the hours and service you have given to the community throughout your high school career all in one packet."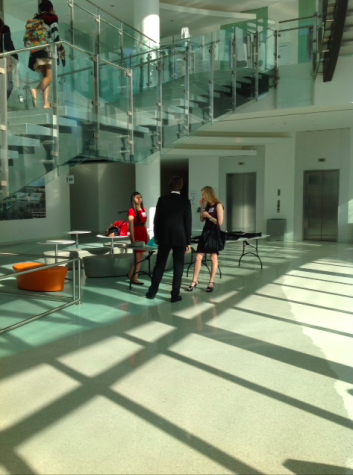 Grace preparing for a Model UN conference at University of Miami
If anyone is cut out for the job of training seniors for a Silver Knight win, it's Ms. Dorn. "I've been coordinating the Silver Knight Awards since 1992," she comments. "We have had 80 nominees counting this year's 4, and so far have [had] 7 Silver Knight winners and 23 nominees take an honorable mention […] Nearly 50% of our nominees come home in one of the top four positions. Let's cross our fingers for our seniors."
The applicants have already conducted their interviews, and according to Connor, "[The judges] decide then and there who the winner is, but wait a whole month to tell us." The Silver Knight ceremony is May 20th, and the spartacus wishes the best of luck to the four applicants representing MCDS this year.