Ryan Sullivan, Ryan Sullivan, Ryan Sullivan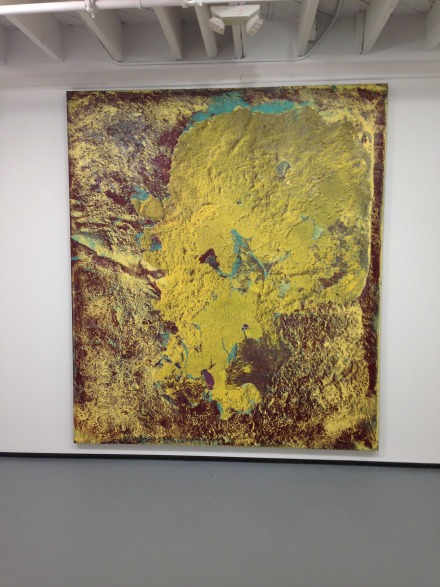 Ryan Sullivan is all they can talk about in the Institute of Contemporary Art (ICA), and I do not blame them. Sullivan graduated from Rhode Island School of Design in 2005 with a BFA in painting, and is based in Long Island City, New York where he does his artwork. He has had many exhibitions in New York and throughout Europe.
He is their brand new exhibition at this brand new museum. With Wynwood and the Design District becoming more and more popular every day, it is sometimes hard to keep up with all the new galleries and museums that are opening. ICA is one of them; an extension of MOCA in North Miami, ICA opened a few months ago, and they are beginning to create a large name for themselves. One of my favorite parts about this museum is the architecture of the building. The room that I love so dearly is called the elastica space; they do not exactly own it because they would have to rent it from another owner, however they use it frequently. The elastica space is split into three different levels of balconies with an opening in the middle so that you can look down to the ground level. There are light wooden floors that are a little tattered, along with corinthian columns that support the mighty balconies. Additionally, there are beautiful victorian style stairs. I noticed an interesting aspect about those stairs; as you climb each level, their size grows slightly smaller. At the center of the opening that surrounds the gallery balconies is a modern sculpture; it is the only piece that was allowed in the elastica space since it is a historic building, and protected by the city. I think I have stressed the beauty of the building enough, back to Ryan Sullivan.
Something that many art historians, and students included, learn about the Impressionist era is that the painters, such as Monet and Van Gogh, wanted to show the artist's hand in their paintings; also known as mark makings, loose brushstrokes, or painterly. This is where Ryan Sullivan's work is a phenomenon. His goal in his work is to remove the artist's hand, something that he believes is also removing the artist's ego. This is all done in order to showcase the painting itself, which is another reason as to why he named all of them as untitled; it is as if he were influenced by Wassily Kandinsky's abstract paintings titled "Improvisation 4" or "Improvisation 28," which were meant to have no meaning except for the shapes and colors.
Sullivan contributes very little to his paintings. He starts off by laying a large canvas horizontally on the floor. By mixing materials such as, latex, acrylic paint, oil paint, lacquer, spray paint, and enamel, a process called accretion occurs. It is a chemical reaction that the materials have to one another. Thus, when he tilts the canvas, they all react to each other, and the painting itself decides what it will be. Sullivan never knows the outcome. The only adjustments he makes is an occasional sweep on the canvas if he does not like an area, and an occasional re-stretch of the canvas. The final result is a rich body of work that is formed through a spontaneous evolution, and although he attempts to remove evidence of the artist, we know that the human is there; we witness the human presence as gravity pulls the volatile materials into shapes and forms that we discern as, maybe, human flesh, the desert, or the magma of a volcano.
On opening night I had the opportunity to be a docent at the gallery, and I was able to see the reactions everyone had when they first saw his paintings. They were all captivated. The very first comment most people said was that the paintings resemble alien terrains such as the moon and other planets. In addition, even though he clearly did not attempt to do this, there was a sense of photorealism in the paintings; an interesting element that was never even meant to be there. Fabienne Rousseau, Museum Educator, said what she loves about his art the most is, "that he is focused on updating the old school of abstract. He is making very bold statements by focusing solely on the materials, and letting the materials become apomorphic; he is removing the artist ego and the artist hand by letting the materials speak for themselves. By that I mean, in his process what he does is he applies his materials on large canvases and then lifts and turns before they have a chance to dry. So they make all sorts of surprising formations because of their chemical reactions, and also because before they have a chance to dry he is lifting and turning them and letting them succomb to gravity. I think he is pushing the envelope that way, and I like him because of that."
Sullivan especially made these paintings for ICA, so no one has ever seen them before except for us Miamians. I hope that you take the time to be one of those special people. The exhibition is suppose to last throughout the summer, but do not delay because it is a worthwhile opportunity. The Institute of Contemporary Art is open Tuesday through Sunday and has free admission every day. Have a great lunch at Wynwood, and take a leisure stroll through ICA, while absorbing all the beauty it has to offer.