Parking Update:2015-16 School year
Last school year many of us were under the impression that the parking deck would be finished , and that students, faculty and staff would have been able to utilize it beginning August 2015. Unfortunately,a visit from the fire marshal ​and permitting has caused a huge delay in the process. The school is pleased to announce that pilings have been placed in the ground- to help support the foundation of the Center for the Arts and the pre-fab parking deck. The construction of both facilities will commence very soon.

You may notice, within about two to three months, the parking deck will look practically "done". However, no one will be able to use it as a sprinkler system  must to be installed,as per county ordinance. That process can't be completed until the Center for the Arts is about 75% complete,as the sprinkler system in the parking deck will run on the same line as the one in the CFA building.

During this interruption, student drivers ,and faculty  5+ years of service (7+years of service last school year) are required to park off campus.  Many students are continuing to park at the local businesses on 6th avenue adjacent to the school. Others are using the free shuttle service provided by the school Monday thru Friday at the offsite parking lot across the street from Doctor's Charter School that is owned by Barry. The shuttle bus will no longer be be an excuse for unexcused tardiness for those who  drive and arrive late as you will now need to be at the Barry lot by 7:40am in order to make it on time for homeroom.
Students are finding very interesting ways to work around the parking situation. A very silent few, thought it was fine to park on NE 5th ave where St.Rose of Lima School is located. Like us, St. Rose has it's own struggles. Students and even faculty were asked to immediately stop parking near that area, if you were doing so. There is also a word out that many are finding spots on roads nearby and parking. That may not be the best idea as you are risking getting your car towed.

As we settle into this new school year, many are hoping that this process of constructing can be as seamless as possible with no more interruptions.
About the Contributor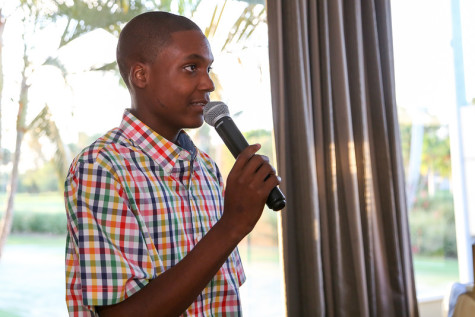 Dwight Spencer, Writer
Dwight Spencer Jr, class of 2016 president, is in his Senior at MCDS. When not fulfilling his duties as a student, Dwight can be seen as the orotund "Voice...