Meru Transcends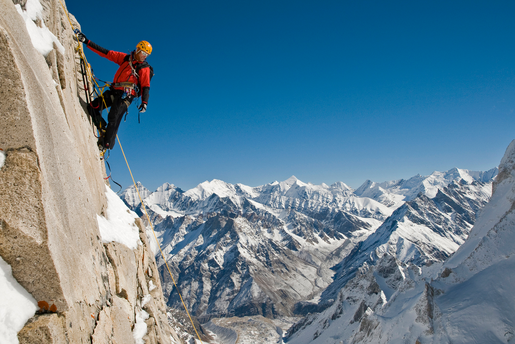 It's one thing to direct and produce a documentary. It's another to also star in that documentary. But Jimmy Chin's Meru is, to say the least, a trailblazer for documentary filmmaking. Chin was one of three men who attempted the ascent of the shark's fin of Mount Meru (twice), the most difficult section of the peak that makes Everest look like a bunny hill. And he filmed the whole thing!
In 2008, the revered climber Conrad Anker was joined by Chin and Renan Ozturk in an attempt to summit Meru. They had seven days worth of food. They spent 21 days going up and down, and were 100 feet from the summit before deciding that it was only safe to start climbing back down. Three years later, the triumvirate of climbers returned. I won't spoil the result of their second attempt.
Meru is an inspiring and triumphant story, regardless. In the three year period between climbs, Renan was seriously injured in a skiing accident, and destroyed one of his arteries, cutting off half of the blood flow to his brain. After hours of physical therapy and hard work, he somehow managed to join Chin and Anker on their second climb. There were points when he lost the ability to communicate, but nevertheless, he persevered, and was able to be interviewed for the documentary.
The theme of redemption is consistent with Anker as well. Known to be one of the most respected living climbers in the world, Anker, who recovered George Mallory's body on Everest, redeems his late mentor, who attempted Meru's shark fin twice and never got it.
About five minutes into the film, I made a note to myself that Jon Krakauer (author of Into Thin Air and Into The Wild) would be a great commentator for the film. And just like that, he showed up on screen a minute later. Though he wasn't part of the team that climbed Meru, his commentary gives life to the story. The upcoming film Everest is about the famous group of climbers (which included Krakauer) that attempted Everest in 1996 and lost six men (and also inspired the memoir Into Thin Air).
Meru is most definitely inspiring, riveting, and a worthwhile documentary.