The (One) Beat Goes On: CME Takes the CFA Stage Tonight
You've been watching the Center for the Arts going up for over a year now. After missed deadlines that we all knew weren't feasible and now frustrating new ways to try and deal with traffic coming into the school, don't you want to know if it was really worth it? To find out come to 21 Hearts 1 Beat's big show Monday and Tuesday night at 7:00 p.m. when the Contemporary Music Ensemble (CME) takes the Center for the Arts stage for the first time.
The show centers around the theme of one beat. Every song will feature a unified band in perfect harmony (both literally and figuratively) navigating through genres, decades, and icons (such as Cher, who just received the Billboard Music "Icon" award, Michael Jackson and Aerosmith) or soon to be icons (Harry Styles and Childish Gambino) to make a great final show for the seniors and for all of you.
For the last chance to enjoy Sami Habib's great guitar solos, Violet de la Guardia's prowess on piano, guitar, and vocals, and Natalia de la Guardia's beautiful jazzy voice and smooth bass playing, make sure you attend one of their last two shows.  As many people have noticed when looking at the posters for the show (featuring photographs by senior Valeriy Kuchuk), there aren't currently 21 members of 21 Hearts, 1 Beat.   This year there are seventeen very talented high schoolers (and one ridiculously talented middle schooler) who you can see perform (Sami Habib, Violet de La Guardia, Natalia de La Guardia, Amaris Rios, Andrea Nelcha, Lucas Kohen, Noah Billante, Benjamin Hug, Nicole Chirinos, Camryn Davis, Ian Zigel, Lisa Paravano, Valentina Wheaton, Taegan Charles, Rebecca Fulford, 8th grader Mack Tracy, and this reporter, Daniel Gallup).  Additionally, Nadine Bloch has been an important part of CME, though she is unable to perform in this final show due to sickness.
In addition to the student members, Mr. Wicker has spent many hours outside of the school to help steer the band to a great show, Ms. Tracy (Mack's mom) has singlehandedly fed an army's worth of hungry bandmates, Ms. Alfonso has worked on choreography, AJ Pitchman has designed the amazing lights, Ms. Maxwell has helped organize the costume changes, and Val Kuchuk will emcee.  Clearly, there are even more than 21 hearts putting their all into the final show.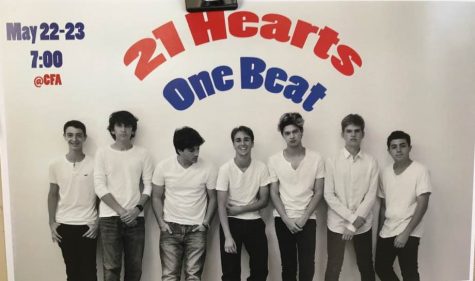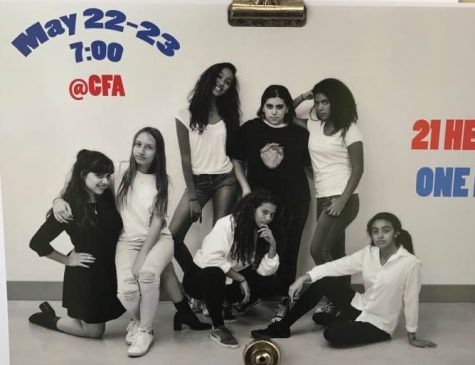 Senior Ian Zigel, who sings and plays piano, says, "Beyond the historical significance of it being the first major performance at the new CFA, I think we've managed to whip together something incredible. The past year for CME has been really above average – at every gig we've gotten feedback such as 'the band is the best it's ever been.' I can't objectively speak to the merit of these comments but we've received them regularly, and there's no denying the superb performance ability and skill level of my fellow band members, or the chemistry that we share on stage. Our self-titled big show should serve as a perfect climax to the year, bringing together all of our various music tastes and showcasing all the incredible talent in the band."
Mr. Wicker said "This show feels like it's going to be a moment" after comparing it to CME's very first "big show," a performance of Pink Floyd's Dark Side of the Moon several years ago.  Each year, when seniors graduate, a new CME continues rocking.   Violet sums this transition up perfectly, when she says, "I think this show is amazing because we've really diversified musically and made it a point to showcase the talent of everyone in the band. We've worked so hard and we've put a lot of love into this show and towards each other as musicians, and you can really see that when we interact on stage.  I feel that this show is a special one since I got to bond with the younger kids in the band. For four years we've been waiting for that real connection a band should have, and I feel that this year we've achieved that. I'm so excited to finish the year off with these  amazing, talented kids."
To kick off the end of one amazing era and the start of many good years to come in the new Center, as well as to see an amazing performance, come to the CFA today and tomorrow at 7:00.