Who Knew Sir Ken was a Comedian?
The international authority on education has chops.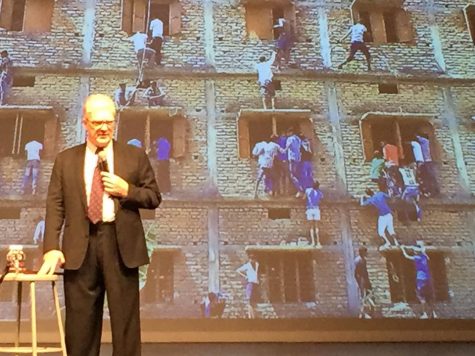 Liverpudlian, friend of "Sir Paul" and husband who renewed marital vows before an Elvis impersonator in a Las Vegas chapel are not descriptors most would associate with the same person who has reached international fame challenging the traditional notions and paradigms in education around the world. Yet, Sir Ken Robinson, with the deftness and skill of a stand-up comedian, commanded an audience of about 500 with captivating storytelling and thought-provoking theories at the inaugural launch of the John Davies Cultural Arts series on October 6, 2017.
I was thrilled to be there.
"Humanity thrives on diversity," not conformity,  he remarked early in his talk. Whereas conformity and compliance were notions born out of the Industrial Revolution,  they no longer comprise the bedrock of our society. In calling for education to be revolutionized from the ground up, Sir Ken called on all of us as teachers, parents, students to embrace diversity in our lives, encourage creativity, live our lives based on following our passions, not complicity. Being good or great at something should not be the main driver; understanding what makes each of us unique and embracing that diversity should be a big part of the equation.
This really resonated with me, as did the example he told of Millicent, his book editor. She had been an accomplished concert pianist. One day her conductor asked "Did you enjoy yourself at the concert?" referring to the sold-out appearance she had just played. "No," she answered. She didn't enjoy the concert and as a matter of fact wasn't so thrilled with being a concert pianist. She had been good at it. It was a strength, so she had pursued it. Most of us do that. But answering that question honestly was her "aha" moment and altered the course of her life. She felt a certain freedom to incorporate what she loved into what she did: books, reading, being with writers and poets.
After nearly three decades in a lucrative career as a successful broadcaster in television, I too had an "aha" moment when, after having to close 60 news bureaus and laying off over 200 employees, that being in the media industry was no longer feeding my passion. Did I once love it? Yes. Was I done? Absolutely. But I realized being part of my son's school projects, teaching college workshops, working with children and adults and advocating for education reform was very much my passion.  That's when I decided to pursue a Masters in Education.
The first week of my masters program, the Dean showed our Cohort a TED Talk.  On the screen came a wonderful animated graphic on a whiteboard- something I had never seen before. It was Sir Ken Robinson's talk. For the first time ever, I heard someone equate our school system to an industrial factory. The bells. The seating arrangements. The notion that workers were taught to comply, were part of an economic process. Wow. This was my educational "aha" and it blew my mind. Sir Ken has been a guiding light ever since.
So to know that he, too, is an Elvis devotee? Well, now he is even more of a rock-star in my mind.