Sir Ken Robinson Speaks to Students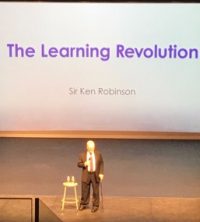 The Miami Country Day School community was fortunate to have a unique experience Thursday night: one of the world's leading speakers and experts on education and creativity, Sir Ken Robinson, spoke to teachers, faculty, parents and students in the Center for the Arts. This was the opening night of the John Davies Cultural Arts series, a yearlong exhibition of different performances in the Center for the Arts auditorium, commemorating the spectacular career that Dr. Davies has had as the Head of School.
Sir Ken, who has the most popular TED Talk of all time with nearly 48 million views, answered questions from about a dozen MCDS students from lower, middle and upper school before he took the stage. A lower school student asked about technology in education and technology "cut[ting] off our social skills." Sir Ken told the students that the term social media is ironic because he believes social media is antisocial in reality. "There's a big difference from being in the room with people and feeling their energy than being at the other end of a screen."
Eighth-grader Marco Pacheco asked if Sir Ken felt he was "limited in showing [his] creative side" in school when he was a student. Sir Ken told the students a story about when he did not get a part in his school's play, but instead he was given the opportunity to direct the play. He directed plays for the next five years and went on to direct plays in college and even went to National Theater competitions. He considered a career in playwriting before deciding that he wanted to do something else.
I was able to ask about Sir Ken's views on educational systems where the students have more freedom, like in Finland. He remarked that "competition" and "endless testing" were the reasons that America was not as successful as Finland in educational reform. "I think it's awful that people have so many tests to do. It has all kinds of collateral effects. It starts to push things out that really matter." Sir Ken added that adults spent much more time "out playing" than today's generation. "Part of this is the pressure of testing," he said.
After this thirty-minute question and answer session with the students, Sir Ken spoke to everyone in the auditorium, which was filled with laughter for the whole two hours. Twelfth-grader Andre Rodrigues, who attended the event with his father, said, "he blew my mind. He was very funny, but at the same time very profound. It was enlightening."