Stress No More. There IS Help!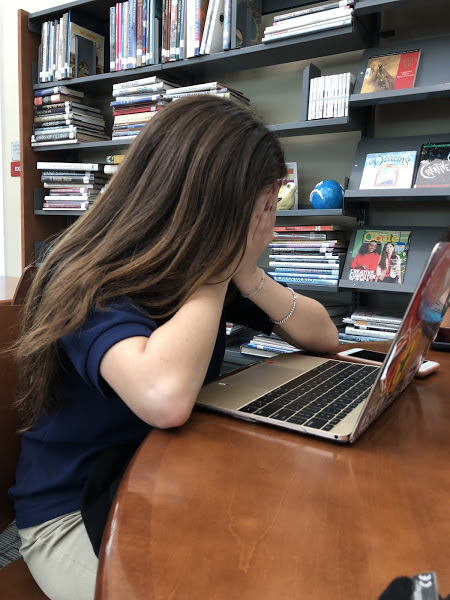 With college applications, SATs, ACTs, PSATs, tests, and extracurriculars, it can feel like you simply do not have enough time to do your work. Then, of course, comes the stress of not having enough time. And the stress makes you even more stressed, so you are not in the proper mindset to do your work, and the cycle continues. Sound familiar? Don't worry. You are not alone.
Sophomores Briana Espinosa and Julieta Feldman, along with juniors Hannah Palmisano and Isabel Marquez are just some of many students who feel anxious because of school. "Showering and eating dinner are the only free time I have because after that, I have to do homework, and I end up going to bed super late," Briana says. She is stressed because she has been doing cross country since August. When she gets home from practice, it is already six o'clock. Also, she has noticed that all of her friends, and the rest of the people that surround her at school, are also under pressure, which makes her even more anxious.
Julieta Feldman believes that school-related stress affects her everyday life greatly. She says that it makes her grades lower because she overthinks everything so much, and ends up doing poorly on her homework and assessments. She would like her teachers to be mindful about spacing out assignments more and not give the students so much at a time.
Hannah Palmisano experienced a lot of anxiety during the beginning of her junior year. She said, "[College] applications are coming up next year and I know that they look at my grades a lot, so I'm getting really stressed about that already." She thinks that school-related stress is a really big problem, especially since she is in the learning resources program, so she sees that many of her classmates are especially anxious and stressed.
Isabel Marquez worries about being worried to get her work done and does not do her schoolwork as efficiently as she would if she were not stressed. She thinks that one of the biggest problems about her anxiety is that she doesn't really cope with it. She says, "I just keep on with it until I get sick or something".
Danny Cross also said that he has heard about a lot of seniors feeling pressured over college applications and lots of underclassmen talk about a heavy work or difficulty understanding material in one or more classes. To these people, he advises to "step back and think about what's stressing them out." If it's a hard class, he tells them to go to extra help or talk to their teacher. If it's an issue of not having enough time, he tells them to carve out time for themselves to relax.
One thing students should know is that there are ways to deal with these feelings and resources right here to help.
Before you diagnose yourself with anxiety or perpetual stress, Ms. Pierce, the Upper School Guidance Counselor, suggests that you differentiate between stress and anxiety. She says that everyone is bound to feel stress as a response to having a lot on one's plate, yet they may not have a clinical diagnosis of anxiety. According to the American Psychological Association, stress is usually described as a feeling of "being overwhelmed, worried or rundown." However, chronic stress and anxiety are diagnosable conditions that are serious and can be very harmful to one's health. According to Ms. Pierce, to get to the bottom of these feelings, one must talk to someone about them.
Resources at MCDS include a friend, a parent, Ms. Pierce herself or a peer counselor. The job of a peer counselor, Ms. Pierce relates, is to be available to anyone who has any kind of concern. Their job is to help and support the students in case they feel overwhelmed or have any problems whatsoever they want to discuss. Peer counselors know that when someone approaches them, they do so in confidence. Meaning, they will not disclose your information or anything you talk about with them to anyone.
Peer counselor Alicia Kelly also had some advice about lack of time. She says that a lot of anxiety or stress is due to time management. She adds, "The best thing to do is try to figure out your schedule before you try to do everything on the last second". She also suggests that if you do feel emotionally strained, you should rant about what's stressing you out with your friends, because a lot of the times getting it all out can be really helpful.
Ms. Pierce added that something that may be impacting the stress levels of students and young people in general nowadays is social media. If you are caught up watching or reading things on social media, it can add more anxiety, especially if you see something posted that you do not like, so we must have boundaries for ourselves and manage that well. She says, that if we stay up late binge-watching Netflix or looking at Instagram, like many students do, that can mess with our time management. In other words, Ms. Pierce said, "We need to really be on top of our game."
If you are a student struggling with any kind of problem, remember that you can always talk to any peer counselor.