New Transgender Policy
Each year students are expected to read, comprehend, and accept the Miami Country Day Student Handbook, or what many students refer to as the "terms and conditions" of the school. This year, a new policy was added to the handbook.
"The Transgender and Gender Nonconforming Policy" explores definitions related to gender, as well as the actual policy and procedures which include details such as pronouns, name, dress code and restroom changes and support/harassment guidelines. Created last year, the policy was drafted by an expert group including legal counsel, "human resources, the guidance department and the division directors and administrative team," says Upper School Counselor Kelly Pierce. She believes the guidelines are "proactive… knowing that there are students who are exploring their gender identity, we want them to feel included and comfortable. We felt that it was important to be prepared, so that if we have students coming forward that would like to put in place accommodations to support their gender expression, we wanted to make sure that we were able to do so with a smooth process."
Upper School Mathematics teacher and GSA co-sponsor Michael Slotnick simply states, "I like that our school recognizes the transgender community and has a policy in place to support them."
The handbook states the following: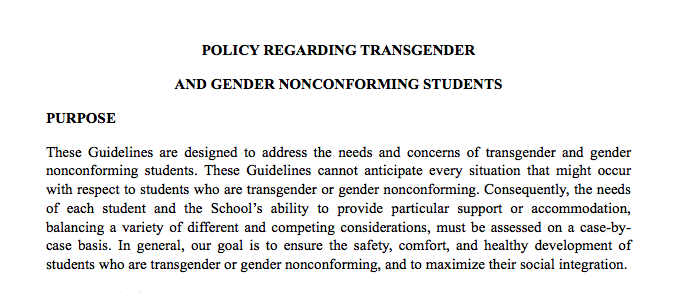 Comfort plays a big part, Pierce explains. "If someone doesn't feel comfortable with the pronouns they are being addressed as, they have the right to explore other options. Same with accommodations. Same with dress code. Same with anything that's mentioned here in these guidelines. We want to  make sure that they [the students] feel supported to be their authentic selves in a safe way." She reiterates that because each student identifies uniquely, the policy is flexible in the sense that it is built to work on a "case by case" basis. "The guidelines not only help students have access to accommodations but also teach faculty how to talk and support students better. This is cross divisional, we want the same guidelines to be used whether the student is in lower, middle, or upper school so that everyone has a way to support students equally."
Pierce wants students to know that help is available. "We just meet the student wherever they are and help and support them to feel okay and safe in the school community."
The steps a student who is searching for help or support might begin with include seeking out a trusted faculty member. That person would then be encouraged to go to one of the guidance counselors in order to create a gender support plan. That plan would not be public, but rather available to your specific teachers and community members in order to grant that student appropriate accommodations, much like individualized plans developed for and accorded to those with learning differences or physical challenges.
GSA sponsor, Global Equity and Social Justice Team representative and Upper School Humanities teacher Jessica Furth admits, "As someone who runs GSA, I do care to make sure that the kids feel free to express themselves however or wherever they feel they need to. So if there's a policy that's gonna help them do that — to me that's a win." She continues, "The school is doing it in order to protect certain people in the student body that are completely unprotected." Pierce concludes, "We're not trying to be cutting edge we're trying to be current and realistic with what's happening within our community and within the world."