Empowerment at the SDLC and POCC
Six Upper School students boarded a plane heading to Anaheim, California on November 30th for the Student Diversity Leadership Conference, sponsored by the National Association of Independent Schools. The SDLC is a part of the People of Color Conference and allows students from independent schools around the country to meet and exchange ideas.
On the organizer's website, it says "SDLC focuses on self-reflecting, forming allies, and building community. Led by a diverse team, participants will develop effective cross-cultural communication skills, better understand the nature and development of effective strategies for social justice, and learn networking principles and strategies."
While the students attended their workshops, the chaperones participated in the People of Color Conference, networking, attending workshops, listening to speeches, and participating in their own affinity groups. Mrs. Wright, the lead chaperone and a Lower School teacher, asserts "I learned how to really listen to kids in a non-academic setting in terms of what they need to be happy, thriving kids at school."
The students were chosen for their outstanding involvement in affinity groups here on campus.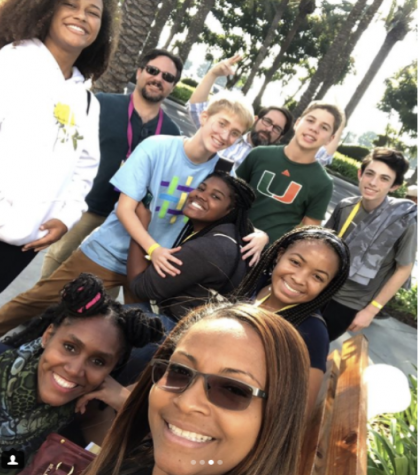 "An affinity group, which is for example YPOD, BSU, JSU, Girl Up, groups that are geared towards minority groups," explains Tatiana Barnes, who is a member of YPOD.
Aaron Dorrance, Taylor Lynott, Lauren Russell, Eduardo Dana and Kyle Gittler stood out because of their energetic leadership and vocal presence. "I was specifically chosen to go because the current representative of our GSA is a senior and it would be beneficial for me to learn leadership skills to use as a representative next year," states Aaron Dorrance.
Students gained insight on topics such as diversity, sexuality, and racism and left empowered. "I learned how to be that support and guide that anybody needs," Tatiana Barnes says enthusiastically, "I'm always there."
The chaperones were Ms. Sarah Wright, Mr. Michael Fallik, Ms. Kelly John, and Dr. Greg Lightfoot. They were pleased with what they saw in the students.  "That was exciting for me because the six of them have so many ideas about things that they want to do and I think it will be really beneficial for our school," Mrs. Wright adds.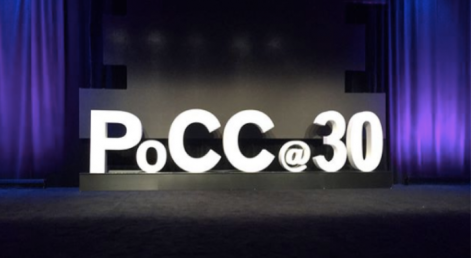 Glen Turf, head of the Global Equity and Social Justice Initiative, attended the POCC in previous years and felt it was extremely empowering. "There's a lot of energy in the room that comes from people, thousands and thousands of people, that really want to affect positive change, and that's really energizing," explains Mr. Turf.
He is certain that sending students and faculty members to the SDLC and POCC will propel MCDS forwards. "Several new programs were inspired by colleagues at the conference," Mr. Turf adds, "The idea for the conver-stations actually got planned, not so much of anything we copied, but we heard something and it just started a conversation that got us to that point."
Mrs. Wright is currently planning on expanding the impact of the SDLC on campus. "We're in the process of collaborating with schools that sent kids to the SDLC to bring high school students together to learn more about diversity and equity and to make sure that we are creating welcoming spaces where our differences aren't isolating." she adds, "So we can be all-inclusive for real."
Students who attended the SDLC were surrounded by thousands of loving and energetic students from all backgrounds. "It provided them with a space that you're no longer the 'only' …here's an affinity group of everyone who's African-American together sharing their experiences in school or our LGBT group celebrating their experiences in school and supporting one another," states Mrs. Wright.
The challenge, now, is for the students to share what they've learned with those who did not attend the conference. "MCDS can benefit from sending students to SDLC because they [other students] can hear stories from people from other walks of life and students can learn new skills to handle confrontation when someone challenges their beliefs," says Aaron Dorrance.
Chaperones and students alike left the POCC and SDLC on December 2nd with hopeful hearts, transformed minds, and tearful eyes.  They boarded the plane back to Miami eager to spread what they have learned with the rest of Miami Country Day School. "When you have a room of 1,600 kids from different backgrounds, different origins, religions, different socioeconomic statuses, just different places in general," Tatiana states with a smile, "It's a life-changing experience."