"Relentless to Succeed" Says Spartan Cup Winner
Being "determined and relentless to succeed" was the strategy Noah Florin used to win this year's I.C.E. Initiative-sponsored Spartan Cup Business Challenge The team comprised of Senior Noah and his brother Harry, who is in sixth grade, pitched their company "Techno Chef" before a group of three judges on January 29th. Their entrepreneurial idea is a platform that connects chefs and people at home interested in cooking together via video one-on-one conversations.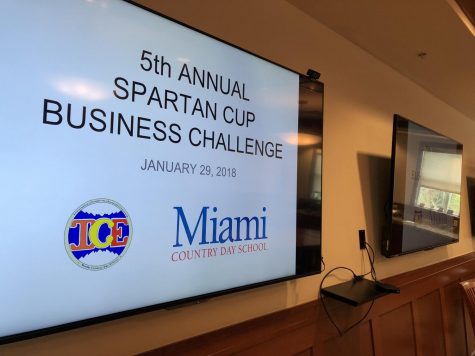 Finding a problem and coming up with a viable solution at a price point people are willing to pay is one of foundations for developing a good business, according to Jeff Hoffman, co-founder of Priceline.com, UBid.com and numerous other start-ups. Hoffman had been on campus, visiting with the participants just days before the competition. Noah says that he and his brother came up with this idea because their "parents aren't the best cooks." That inspired them to come up with a way to enjoy better dinners. Overall, they say, they want to improve the quality of food around the world.
Ms. Karen Davis, Director of the Innovation, Creativity and Entrepreneurship Initiative– or I.C.E. —  said that the Florin's presentation impressed the judges greatly, with their energy, enthusiasm and confidence.   "Everyone can have a good idea. But not everyone has what it takes to articulate and persuade investors or judges on why that idea is better than anything else out there." Ms. Davis added that the most successful competitors radiate confidence and know why their business solves an existing problem.  They can prove that their business is better than the competition's, are realistic about the business growth, and are able to answer tough questions seamlessly.
Rachel Kaiser, a junior, came in  second place in the Spartan Cup. Her product is called ICED,  compression-wear that have ice packs in them so that athletes going through a physical injury can have a more mobile recovery to continue with their day-to-day life. Rachel developed her product because she recently had a partial hip tear on her left hip which she needed therapy for. She says, "I wasn't allowed to go to therapy until I finished icing, and I had to be places." Even though she did not win the Spartan Cup, she will be working with outside sources to see how she can get ICED created and on the market. Lastly, she tells students who are interested in pitching at next year's challenge to plan ahead what they're going to be doing. "Don't wait until the last minute, because I unfortunately did that," says Rachel.
Junior Isabella Pedraza took  third place in the competition. Her product, Millenniaire, is where "millennials can live like millionaires on vacation." She hopes to offer "authentic, raw experiences without compromising privacy, comfort, and luxury." Her idea is revolved around of yurt communities, communities of hut-like lodgings with a clubhouse at the center, the first one in Yogyakarta, Java, Indonesia.  The community would very environmentally conscious. The locations would be eco-friendly, the food served would be locally sourced and organic and the tours offered would encourage local and eco-tourism.  Isabella took the time to research the price of the land, taxes and more. She also took marketing costs into consideration.
What's next for them? Like Rachel, even though Isabella didn't win the Spartan Cup, she is determined to pursue her business. Trademarking the name "Milleniaire" and developing its website are her priorities.
Noah says the I.C.E. Initiative is worth joining because it is a "great opportunity to immerse yourself in entrepreneurship."  He would advise students interested in entering the challenge to be "relentless to succeed." But, with determination comes hard work. Noah noted that the application process for the Spartan Cup was not difficult; the hardest part for him was researching the market. The winning team will go to the next level and compete against eleven other private schools at the Innovate South Florida Business Plan Competition to Benefit NFTE to be held at Miami Dade College in April.
The I.C.E.  Initiative is a program begun in 2013, open to all students at the school, from PK3 to 12th grade. Its goal is to connect students who have entrepreneurial dreams with faculty, alumni, parents and community mentors who can share their knowledge about the business world with them. The Spartan Cup is one of its annual endeavors.