DON'T GET THE FLU…VACCINATE YOUR CREW!
Every year, the flu affects the health of millions of people across the United States. This year has been no exception. But, this year's most prevalent strain of flu — the A (H3) –has been different and has definitely affected our community.
Jose Oronoz, Dean of Students, who has been here for nearly 15 years, attested that the flu has hit MCDS really hard. "I can only think of one other time that it was as bad as this year. That probably was about a decade ago. I can tell you that this has been a very unusual year."
With a total of 45 student cases confirmed and reported by physicians, there are probably more cases that have not been reported according to school nurse Fran Oppedisano.  Add yet, even with so many cases here, MCDS is still within the level deemed not to cancel classes. "Both the CDC and the Florida Department of Health website suggest that if a school absentee rate reaches 30% of the total population, then the school should consider closing for 3-4 days to allow students to disassociate from each other and hopefully stop spreading the flu." As of February 2018, our rate of students with the flu is at less than 4%.
Not only are higher death rates reported, but it has increased the number of students absences to school. The flu is starting to worry teachers like Mr. Oronoz because "it is causing a delay in the learning of students." Many people are absent and missing important class material. Not everybody can always understand just by doing the homework and the assigned reading. Mr. Oronoz agrees as he says that "it is going to be very difficult for that student to be able to catch up with the missing work. Also, it puts an unintentional burden on the teacher because the student is legit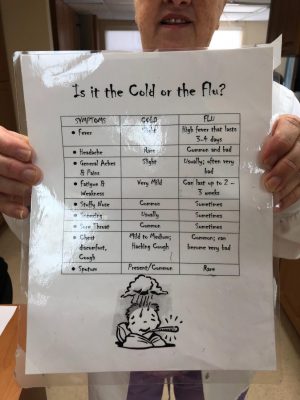 imately sick, but then the teachers have to make up all the work for that student to be able to catch up."
According to the Centers for Disease Control (CDC), the severity of influenza in the United States is affected by the timing of the season, the effectiveness of the vaccine, and the amount of people vaccinated. This year, the flu season arrived a month early in October. Judging by the 97 pediatric deaths reported in Florida, it leads us to wonder whether  the vaccinations were either not as effective or not as many people got vaccinated. The CDC reported "a preliminary interim vaccine efficacy estimate of 36%" but that influenza B activity has increased in recent weeks. Since the CDC began recording flu hospitalizations statistics, this season has seen the highest hospitalization rate since they started calculating.
Influenza activity remains high which is why Ms. Oppedisano recommends getting a flu shot, washing your hands with soap and water, drying your hands with paper towels, avoid touching your face and using your elbow to cough. If you do get the flu, you need to take it seriously as this year's flu is particularly virulent. It lasts up to a month before it completely leaves your body and you are most contagious during the early stages of the flu.
Nurse Fran's personal experience leaves us to reflect on the dangers of the flu and why we should take care of ourselves during this time. "I had a family member die from the flu 3 years ago. She was only 28 years old and I had promised her parents she would get to the doctor in the morning. Unfortunately, she never woke up that morning and it was due to the flu. So, I really strongly recommend that when you're sick, you need to stay home."