Spartan Service – Your Personal Guide to Service Hours 2018-2019!
PLUS New App to Keep Track
Miami Country Day School's Community Service Board (CSB) rolled out their new requirements for service hours, as well as launched their own app service with MobileServe this afternoon. The move to the new system puts students into the driver's seat of their community service experience and spotlights extending our Spartan values of compassion and respect not only throughout but beyond our campus.
In case you were missing or need a review, here are the new policies for the 2018-2019 school year:
Every Spartan still must complete 25 hours of service during the school year. But, this year there are no more concentrations (people, animals, health, environment). This means that Spartans have greater freedom to join any or all service projects that interest them and experience all types of service interactions, without worrying about keeping within a certain project type.
The other change that CSB has introduced is the breakdown of "Service in Kind" and "Service in Person." This is part of a goal of both students and teachers to make sure students are fully immersed in the culture of service we create here at Miami Country Day. The breakdown goes as follows: 15 of your service hours must be "Service in Person." This refers to community service that is done through face-to-face interactions with your service community, whether at Miami Country Day School or out in your surrounding area. The remaining 10 service hours may be "Service in Kind" which refers to monetary and material donations you bring in to various projects throughout the school year. Students are more than able to do all of their service hours as "Service in Person", but are not allowed to do more than 10 hours as "Service in Kind." Once students have completed 25 hours, they are able to go beyond those hours in both categories, if they choose to do so.
The process of tracking community service hours is promised to become much easier with our school's own MobileServe app. "I really believe the new MobileServe system will not only facilitate how to check your hours and know your requirements but also encourage the MCDS community as a whole to participate in a more active, involved manner that truly encompasses the core value of 'Compassion'," says CSB board member Isabella Pedraza. MobileServe is a service app available for IOS and Android that allows students to track their service hours in conjunction with their school.
To get MobileServe, head over to your email and look for an email with a link to join MobileServe (it may have defaulted into your spam mail). Once you have downloaded the app through the link, it will ask you to sign up with your school email and create a password. MobileServe will also ask you to fill in your full name, birthday, and organization, which will be Miami Country Day School.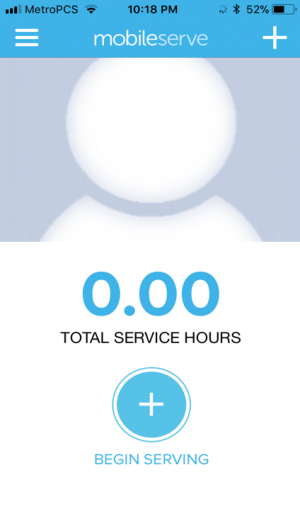 After clicking submit, you should now be officially into the MobileServe system and you will see your homepage. Clicking on the "Begin Serving" button followed by "Enter Service Hours and Location" will allow you to track your hours in real time. Enter the number of hours earned, then click next. Select the correct option for type of service (in person or in kind) and tell a little about what you did. Proceed to the three step verification. Enter your supervisor's name and phone number and then email. Geotag yourself into the area, click next, and then attach photos from your service (for both in kind and in person). Finally, click submit. Your service hour tracker will go up. This is how you will keep track of your service hours all year.
Two other useful tools are the activity and event tabs. The activity tab displays a goal progress tracker that clearly lets you see how many hours you have in both "Service in Person" and "Service in Kind", how many hours you have to go, and lets you know if you surpass your goal.
Easy access to clear progress displays anytime gives students greater control over the management of their hours and reduces worry over tracking their hours through manual paperwork.  The event tab shows upcoming school service events such as the Cancer Walk, and allows you to RSVP and sign into events when they happen, making getting hours for community events much more efficient. It also allows for effective communication of service event opportunities across campus.
With all the exciting new technology allowing students to become more active and responsible in their own service interactions, it will be interesting to see what the students of Miami Country Day school accomplish this year. Happy serving Spartans!