HOCO Daily Wrap-up
As the Homecoming week progresses, competition is intensifying throughout each event. The Seniors showed their intelligence in the Brain Bowl today where they won first place. They were followed by the Juniors, and third and fourth place went to the Sophomores and Freshmen, respectively.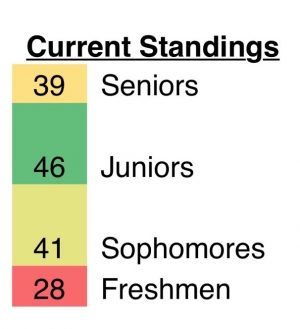 At lunch, all of the grades went to the field to support their classmates in a game of Poison River. On the boy's side, the Juniors came in first, Sophomores in second, Seniors in third and Freshmen last. In the girls' competition, the Freshmen came in first, Seniors in second, Juniors in third and Sophomores last.
Currently, the Juniors are in first place with forty-six points, the Sophomores in second place with forty-one points, the Seniors in third with thirty-nine points and the Freshman last with twenty-eight points.
Tomorrow the grades will compete in Battle of the Bands during assembly time. Also, don't forget to come after school to support your classmates for Chess in Mr. Hutsko's room in FC 205!
Check out the Spartacus the rest of the week to get updates on upcoming scores!