The Bell Has Timed Out…
As everyone has heard, our class bell changed from the standard high school ring to a very different sound. In our most recent Spartacus poll,  we asked for the opinions on the bell with several different options and feelings: "Want to pull my hair out when I hear it!" "Confuses me!" "Can't it rotate through a playlist?" "Could care less" "We have more important things to think about" and "Love it!" Of those who voted, the strongest answer was that 39% wanted to pull their hair out when they hear it. Dazed and confused were 23% of voters, while 19% want different songs for each month. 16% of students don't care, and a slim 3% of voters love it.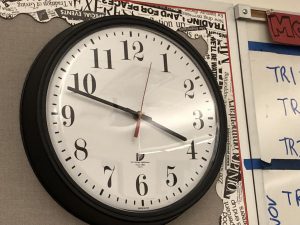 With these results a bit more colorful but being pretty aligned with the results the student government found, perhaps new tunes will be alerting us to class changes pretty soon.
If you have an idea you'd like to poll, please sent it to Sophia Gostfrand or [email protected]