Alum and Microsoft Exec Inspires Students
Meet Fred Pullen Class of '85
Many students at Country Day have probably been in this situation: you're studying day after day to get the best grades you can, the best ACT/SAT scores, the illusive 5 on an AP exam, all in the hopes of attaining a good future… but what exactly does that future hold? For alum Fred Pullen, class of 1985, his efforts at Country Day to attain such a future led him to his current job at Microsoft, where he has been working for the last fifteen years. On Friday, April 12, Mr. Pullen returned to his alma mater to give a talk to high school students about what he has learned since he graduated over 30 years ago and went into the field of technology.
While it might seem unlikely, Pullen feels his majoring in psychology at Davidson College actually helped lead him to his current job. He concedes it taught him "the value of statistically relevant data. Every Psych major has to take a math class. Most Psych majors hate it. Usually it's statistics or research methodology. I loved it, so I took that class, then I took advanced stats, it was a lot of fun for me." These classes led him to find out that technology was his forte.
Post-college,  he worked on his own as a computer technician. Eventually, he started to look for other jobs dealing with technology. Once he completed an MBA, he was hired by Microsoft fifteen years ago. He still works there today, but he has since been promoted to the position of Principal Program Manager on the Microsoft Edge team, where he is responsible for enterprise customer outreach. During the talk, he also described a bit about his contributions in developing Microsoft Edge, Microsoft's newer, faster browser, similar to Google Chrome, but his talk mainly focused on what current high schools students can take away from his experiences that led to his current job.
Mr. Pullen is happy that his current job fulfills the mission of the Japanese concept of "ikigai": finding the balance between doing what you love, what you are good at, what you can be paid for and what the world needs. He encouraged the mostly juniors and seniors at the talk, that, when thinking about career paths, they should keep this concept in mind.
Pullen went into further detail about the last of the facets of "ikigai" and taking part in "what the world needs," during an exclusive interview with The Spartacus.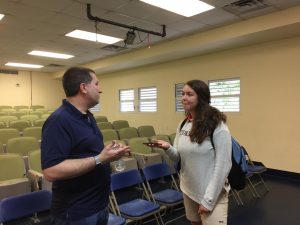 He told us that Microsoft's mission statement for the last ten years is "to help every individual and every organization on the planet to achieve more." Microsoft is very well aware that their customers come from a multitude of backgrounds. Mr. Pullen explained that the company must keep this in mind at all times because, "Unless we understand our customers, we're not going to do a good job of helping them achieve more in their own ways. We don't define what achieving more means… [that] is up to them…But whatever it is, we want to help empower them."
Mr. Pullen further detailed how his time at Country Day helped shaped the person he is today. One of the ways was in making him "more well-rounded," by giving him "perspective about the broader world," unlike some of his colleagues at work, who he says "know their focus area, but don't know things outside that."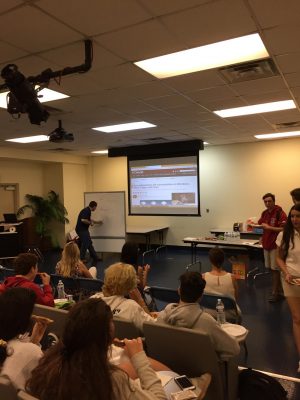 Another way in which MCDS helped Pullen on his path to success was by pushing him to think critically and analytically. He remarks that "the habit of questioning and thinking analytically" is something that can't be taught, but was more ingrained into him by Country Day's overall learning culture. This is a quality he now looks for when hiring people to work for Microsoft. He recounts that when he had to interview candidates for simple network troubleshooting jobs, he would give them a (seemingly) malfunctioning computer to fix, but the only thing wrong with the computer was that the network cable had been unplugged slightly. He explains that,  "All they had to do was plug the network cable back in. There were so many candidates that would reinstall the operating system because they didn't think to think, 'Okay, is the network cable unplugged?' So learning to think more carefully and more analytically definitely helps."
Lastly, Mr. Pullen would like to give any students at Country Day who are thinking about entering the field of technology or STEM in general a couple pieces of advice, the first being:  "Reach out to other alumni because [they] want to be able to help others."
Second, he wants students to know that "diversity and inclusion have never been more important than it is now in tech." Throughout history, the field of STEM has often been led by men coming from higher socioeconomic backgrounds, leading to stereotypes that women and members of various minorities are less able to succeed in careers dealing with math and science, thus discouraging many to pursue such careers, regardless of how good they are at math and science or however interesting they find those subjects. Mr. Pullen addressed the aforementioned bias against women, saying that for years, he "actually thought… that girls were better at math and that boys were better at English…  it just so happens that in [his] class, [they] had really smart people across the board, and some women who were intimidatingly intelligent, and much better at math than [he'll] ever be," so he was very shocked when he actually entered the field of STEM years later and people trying to falsely convince him that men are better at math. This goes to show that there are people like Mr. Pullen in technological fields that are very well aware of the fallacies behind this prejudiced way of thinking, and who don't believe that women should be discouraged from pursuing STEM. He believes that, "in tech, there's a revolution now, of 'How do we make sure that we give everybody an equal chance?' or 'How do we make sure that everybody is on the same platform?'" He noted that, "having an environment at Country Day that encourages you to be as good as you can be in whatever area, should carry forward to the tech world especially."
4/16/19 Correction to Mr. Pullen's current title and role, which is Principal Program Manager on the Microsoft Edge team, where he is responsible for enterprise customer outreach. The report erroneously stated he was working on PAL, the Performance Analysis of Logs tool, which does not exist.