Don't Stress Over Course Selection
"Taking control of your own education" is what it's all about, says Bronish
If you find yourself feeling befuddled over the myriad choices in course selection this year or are convinced that saving up all your free periods for senior year is the way to go, or if you're unsure about the new add-drop policy, you are certainly not alone. With all the new changes bombarding upper school students this year, planning for next year can be confusing. And because course requests need to be completed by Friday May 3th, The Spartacus went to the "source" — Academic Dean Dan Bronish — to settle rumors, better understand requirements and identify new opportunities.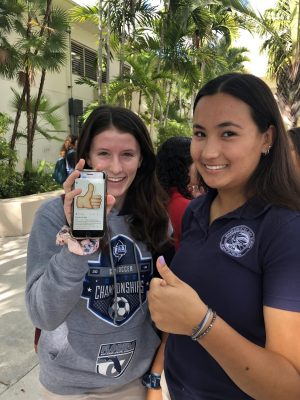 One thing is certain: taking your own education seriously and being responsible for decision-making is at the heart of what's being built into the new plan. "My hope is that they [students] understand that they need to choose wisely now," Dean Bronish told us.  But he makes it very clear that choosing "wisely" means to consider your choices carefully, after reading the course descriptions, asking teachers about their classes and reviewing the content covered, especially for your electives.
ADD/DROP After all the years of students waiting in line to have Mr. Bronish alter their classes, the drop-add period is now a thing of the past. Students have two 1st choices for their electives and for each first choice, an alternative. If a student gets either of his first choices, there is no changing allowed. But if a student gets an alternative, there is some room for flexibility and he may be allowed make a schedule change. Mr. Bronish said, "both the Middle and the Upper schools are adopting the same policy next year:  if you get your first choice elective, you chose that class, you wanted to take that. So, you'll be be locked into taking that class."
This has caused a bit of concern and consternation among some students who fear that classes they choose won't be what they expect them to be. Commenting on the difference, Zoey Arnold stated, "I think we should be able to perhaps try the classes for a couple of days… because if I really don't like a class, I don't want to be stuck with it."  But, at the end of the day, Bronish reiterates, a student should be in a class they're interested in or can benefit from, "not because your friend's taking it or your girlfriend or boyfriend."
THE FREE TRACK MYTH As far as myths around scheduling go, one of them is that students think they are playing the system by "saving" all of their free periods for senior year, as the Academic Dean noted in the course request assembly. However, as he aptly points out, this is one of the many fallacies surrounding course requests. There are two potential free periods available per year, one each semester. Use them or lose them. There is no such thing as saving them up. If you desire a "free" period, you have the equivalent of eight (8) semester course free periods available to take over your four years in upper school.
Undoubtedly, many of the changes in course selection add up to opportunity. More classes, self-study and more independence are the recipe for these changes, Bronish assures us. The flex courses and free online Humanistic classes are going to create more opportunities for the students to be independent. That is, as he says: "They're geared toward you really taking responsibility for your learning." A flex class is an elective course that is scheduled for a designated a track but will not meet every day. Instead, students will be expected to work independently during those track times or at other times, as they manage their workload schedules. They will all be project based, specifically designed to accommodate both students and teachers: "The idea behind the flex classes is to accommodate not just the teacher's schedule, but also the desire for students to learn on their time and anywhere," said Mr. Bronish. Teachers will, of course, be expected to deliver clear times and dates for participation and deadlines.
FLEX COURSES The five Flex courses available include two project oriented courses geared toward preparing students to enter real-world competitions: Money, Markets and Investing taught by Mr. Bronish and Ms. Davis's Innovation and Entrepreneurship course based around Design Thinking principles and developing a business plan. The projects will be aimed at entry into the Wharton Investment Contest and into the I.C.E Initiative's Spartan Cup Business Challenge and Herald Competition, respectively. Python Coding, Focus on Success and Yearbook will also be Flex-taught. Yearbook, however, will take place before and after school hours, whenever they meet as a group.
NEW OFFERINGS Five no-cost ( free of charge) HLC courses, each counting as one-half of a Humanistic Studies credit will be offered. These one-semester courses are limited to 25 students per semester and include Holocaust Studies, Women in Islam. Social Innovation & Community Engagement, Modern Human Migration and Modern World through Graphic Novels. In addition to these online Humanistic studies classes, Media and Politics will be offered on campus for the first time, along with AP Art History, AP Psychology (online) and four CP classes that have been scheduled in prior years. (See page 14 of the catalogue). 
While students may be aware of the environmental science course that is currently offered at the AP level, next year there will be college prep level course prior to their senior year. "It's a way for [students] to to get to know what environmental science is …prior to 11th grade." It is always beneficial to build up the college resume, and this class is no exception.
In all, there are changes that rock established traditions such as the add-drop period, but it is undeniable that opportunity is jam packed into next year's courses.