The Strike Has Not Ended
Four MCDS upper schoolers are doing more than talking about climate change. They are helping to unify student coalitions, parents, journalists and everyone they can think of who may be worried about the future of our planet by taking a lead in the Global Youth Climate Strike on Friday, May 3 at 10 am in front of Miami Beach City Hall.
This will be the second time students from the school are striking locally.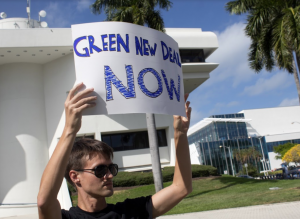 This time, organizers hope to attract many more people. Student activists already involved in the cause include myself, Mildred Waxman, Chiara Bruzzi and Andrew Weaver.
For Florida's youth, climate change and the resulting natural disasters like rising sea levels are a constant fear.  Efforts by our government have been forthcoming and include a new system that "collects flood waters, screens out large debris like plastic bottles and pumps it back out into Biscayne Bay through one-way valves known as backflow preventers that keep rising Biscayne Bay waters from flooding drainage pipes. The plan also calls for raising seawalls, most of which are on private property, and raising some roads," according to Joey Flechas and Jenny Staletovich in a Miami Herald article. But the runoff from these projects includes sewage, which is being discharged into our marine ecosystem.
For others, who feel the government is simply not doing enough, this strike is critical.
The Global Youth Climate Strike is becoming a movement and growing around the world. It began after Greta Thungberg, a Swedish student, protested at her school and in front of the Swedish parliament against the government's lack of action against climate change. Thungberg has since been nominated for a Nobel Peace Prize. In front of Parliament in her nation, has once said : "We children are not sacrificing our education and our childhood for you to tell us what you consider is politically possible in the society that you have created" The strike movement has made its way to U.N. committees and Town Halls. The movement continues to grow.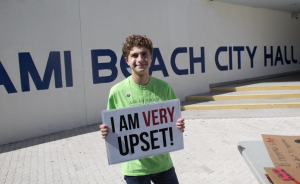 For the second time this school year, student activists in Miami will unite and strike again on May 3 at Miami Beach City Hall from 10am to 12pm. This time, they strike with the support of NGO's, Greenpeace, Climate Citizens Lobby, Climate Reality Project, CLEO Institute, Sink Or Swim Foundation, Extinction Rebellion, Climate Futures, Solar United Nations and a numerous amount of student coalitions.
A few posts about the Miami Climate Strike:
https://www.cleoinstitute.org/2019-cleo-events/2019/3/18/miami-youth-climate-strike
https://twitter.com/miamisearise