Mermaids, Monsters and Moana…It's Homecoming 2019!
The announcement that everybody anticipated came at 10:10 AM, roaring from the voice of our Student Body President Jack Finvarb, towering above as he stood on top of the Senior Circle. The theme of the 2019 Homecoming is… Disney films!
According to Finvarb, "there are a lot of themes and each grade will get to choose one from movies including:
Aladdin, The Little Mermaid, Moana, Finding Nemo, Frozen, Toy Story, Monsters Inc., Coco,
The Lion King,The Princess and the Frog, Cars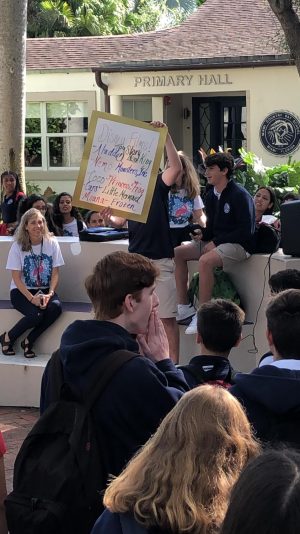 "We thought everyone would have more of an opportunity to choose something they'd really like if the list of possible movies was long and diverse," he told us.
Homecoming will kick off with Powder Puff football and the boys' cheerleading on Saturday, October 12 during the annual Walk for Cancer. The following week will be filled with Hoco activities, culminating in the dance on Saturday, October 19.
"We are considering keeping the dance at the MCDS gym this year so that the emphasis is on our charity, Scaring for Caring,  which has been involved in the creation of the dance for the last two years." Finvarb added that 100% of the funds from tickets will go to the charity, highlighting and encompassing Miami Country Day's mission to give back to our community.