Act Up for Climate Justice
Strike on Miami Beach Friday September 20th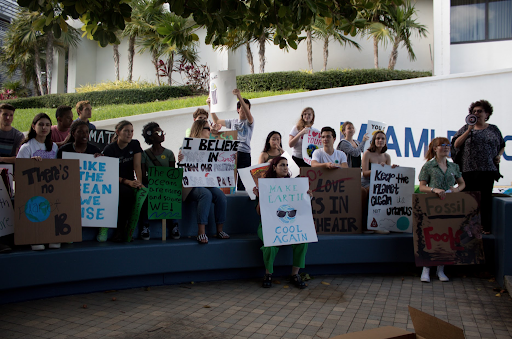 "Time for Climate Justice" and "Act Up"  are some of the eye-catching phrases that have been paraded outside of the Miami Beach City Hall in the past, as students and adult mentors of youth advocacy groups have stood up for climate change, striking for legislation to combat the climate crisis. 
The Climate Strike will again take place this Friday, September 20.  While this is not a school sanctioned event, according to Director Dana Vignale, students may attend and the absence will be excused if the following occur:
Notification to Mr. Oronoz prior to attending,

Students must come to school prior to the event and return after the event.

Parents must sign the students out and provide transportation. If students are carpooling, then the parents must specify in an email with whom the student is riding with and that they are going to the Climate Strike. 

Attendance must be documented by taking a picture

We will notify teachers of the students who have an excused absence for tracks missed
In addition, every student participating will need to do a  follow-up activity for the excused absence to be valid. This can be a letter to legislators, a video, a reflection essay or something of your own choosing. A copy of the letter/email should be submitted to Ms. Vignale by no later than Friday, September 27, 2019.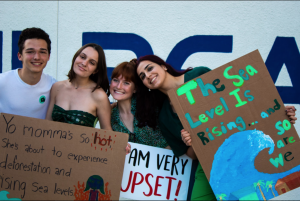 The MCDS effort is being led by Gabriella Marchesani, Andrew Weaver, Chiara Bruzzi and Mildred Waxman. Strikers are not only aiming to raise awareness and inspire the application of sustainability, the also seek social justice. Climate gentrification, the situation in which the residents of heavily populated coastal cities push inland to higher ground as sea levels rise; these high ground neighborhoods are generally lower income, marginalized communities. Because the condition of these neighborhoods is not ideal living to the urbanites, urban gentrification will start to occur (the low income communities are being urbanized and due to this, the property values will increase) and push the original inhabitants out of the neighborhood because they can't afford to live there anymore. The strikes have been putting the marginalized communities at the head of this movement. Andrew Weaver, one of the strikers at Miami Country Day passionately states, "in the event that we do take action on this on the climate crisis, these people (inhabitants of marginalized communities) are at the forefront of it, and we listen to their issues, and we make sure that their needs are met."
He shared, "A lot of the inland communities and communities like Miami are lower income communities, marginalized communities, ethnic communities, like, for example, Little Haiti."
Chiara Bruzzi, a teen environmental activist here, exclaimed, "Miami Beach is such a strategic location. It's going to be affected by climate change because of the rising waters. "
As generation GND (generation Green New Deal), the generation that's going to implement sustainability into our laws and policies, strikers also seek to establish the United States as a carbon neutral economy, the idea that the amount of carbon produced is equal to the amount of carbon taken in. 
Local strikes led by students of Miami Country Day started out small, however, are starting to grow and gain advocates. A typical strike would include protesting to raise awareness and catch the attention of commissioners and passersby. Bruzzi proudly said, "these chances are that our voices can be heard" and "sometimes (commissioners) even come downstairs and start asking us questions." After an effective strike, 6 youth environmental advocates educate the audience about climate change and effects that come with it. 
Chiara urges others to take a stand: "The strikes are a great opportunity to just come out and learn."
Climate strike season is year round and is an ongoing cause because climate change won't stop unless change is made.