HOMECOMING IS COMING!!!
But make sure you read the rules!
The campus will be full of characters and images from Toy Story, Lion King, Cars and Monsters, Inc next week so get ready for Homecoming 2019! Ms. Kelly and the SGA want to make sure everyone knows the rules, so here is the list of frequently asked questions that were sent out to faculty this evening:
FAQ/FOR (Frequently Asked Question and Frequently Overlooked Rules)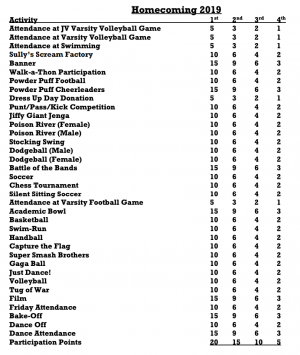 FAQ: Are you serious? We didn't know that was a rule! Can we have an exception? Answer: No. Read the rules. Read them carefully. Make sure the people participating in each event have read those rules carefully. It is the responsibility of the class officers, the event captains, and the participants to know the rules. Some examples of FORs that have caused confusion and disappointment in the past:
You may not mention another grade/theme in your song.
Your team must be ready to start the event right on time.
You may not play soccer without shin guards and cleats.
You may not change the rosters once they have been submitted.
You may have the event captain address a referee/judge politely and appropriately if there is a question, but be very careful with this… the referees are professionals who are doing this out of the kindness of their hearts and with the best of intentions. 99.9% of the time the refs/judges word will be final and continued arguing may result in disqualification.
You may not leave any trash on the field at any time, including after the Powder Puff dance.