Zoe's Train Pulled Into the Gym
And It Was Movin' and Shakin'!
On Sunday afternoon, the Soul Train Express pulled into Coach Swaby's court as the 5th annual Living Doll Experience, presented by Zoe's Dolls, the organization 8th grader Zoe Terry started when she was in kindergarten, lit up the gym with performers, vendors and lots of delicious (free) food. 
This community event celebrates all girls and "the beauty of the skin they're in" every year, "inspiring young women of all colors to become the best version of themselves," commented Linda Chambers, who had taken on the role of event adviser this year. "Beautiful, unique, powerful and special is the message Zoe and her organization wants to convey and it was in evidence this afternoon," she beamed.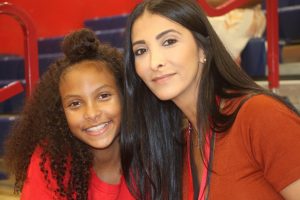 The community-wide event's theme was Soul Train, the groundbreaking TV show from the 70s, hosted by Don Cornelius. Everyone, young and old, got up on their feet to boogie down the famous dance line.
In a surprising moment at the close of the event, Chris Davis, the Vice Mayor of Opa-locka, made a special announcement.  Noting numerous occasions Zoe has stepped out to help those in need in the community, including her toy give-aways and tirelessly providing food and supplies to Opa-Locka residents during hurricanes and hard times, Davis revealed that the city has proclaimed October 19th "Zoe Terry Day." He read from the Proclamation: "We encourage all the people of Opalocka to recognize and observe the accomplishments of this mover and shaker in the making."
Zoe's Dolls started with the specific goal of giving away "little brown dolls to little brown girls," according to Zoe and her Mom, Nakia Bowling. Over the years, its mission has broadened to empower girls around the world, through its dolls, events, and motivational speaking engagements. For more information about the organization and how you can get involved, check out their website at www.zoesdolls.com