Will Sanders' Supporters Switch to Biden and Save the Democratic Party?
With weary faces staring at computer screens, supporters of Vermont Senator Bernie Sanders knew that the end had come on April 8. Over a livestream video, their champion of "American Liberalism" suspended his campaign for President following a series of devastating Democratic primary losses to former Vice President Joe Biden.
For supporters watching that day, Sanders was the torchbearer of a new generation of political leadership, one that loathed corporate influence in politics and envisioned a more progressive, equitable America. Many of his backers, including members of the MCDS community, now know that they must make a difficult decision in November between the moderate Democrat Joe Biden and their ideological adversary, Republican President Donald Trump. 
After Sanders' endorsement of Biden on April 14, many of the Senator's supporters were crestfallen but realized the political necessity to unite the Democratic Party and prevent the type of factionalism that likely cost Hillary Clinton the presidential election in 2016. 
"I think it was the right thing to do just because we have to vote for him [Biden] at this point," says Junior Mildred Waxman, who caught on to Sanders' campaign last year and will be voting for the first time in November. "I think there's a lot of Bernie supporters who are saying that they're not going to vote or they're just going to write Bernie on the ballot, and I think that's ridiculous. I just don't think that's right, given what happened in 2016. Especially since he [Bernie] says he wants to work alongside Biden and hopefully try to implement more progressive strategies into what Biden is doing."
Although Sanders' supporters do share many fundamental beliefs with the former vice president, voting or actively campaigning for Biden will be a moral and ideological dilemma for many on the left because of his centrist voting record.
Gabriella Marchesani, a vocal Sanders' supporter, cited her opposition to Biden's positions on the Iraq War, gay marriage, federal funding for abortions, and civil rights issues over his 40-year political carrer. "Knowing what he [Biden] stands for, knowing what he has stood for,  knowing the things that he says, I think I'll vote for him," Marchesani told The Spartacus. "But to fully support someone who doesn't understand consent, I can't do that. I'm a woman."
The recent sexaul assault allegation brought against Biden by his former Senate aide, Tara Reade, has raised questions for some women and liberals in the Democratic Party. In addition to his vehement denials, Biden has encouraged the Senate to access his file in the National Archives to prove that Reade never brought a complaint against him in 1993 when the alleged incident occurred. Apart from this grievance, Sanders' supporters also find it hard to back Biden because of his insufficient plan to deal with climate change and his refusal to adopt Sanders' signature Medicare for All universal healthcare plan. 
Some of Sanders' supporters wonder whether his progressive ideology died with his demise as a presidential candidate or will live on among his younger supporters for decades to come. Upper School English teacher Samuel Brown believes that changing demographics may keep the wave of progressive politics rolling into the future. 
"I think you have a generation of people who have grown up after the Cold War for whom socialism is not a dirty word. I think most people around the country at least have some openness to policies that widen and strengthen the social safety net," Brown says. "And although sometimes that word revolution can evoke something that's maybe a little romantic for people, I think the way it seemed to be understood was that it was a kind of participatory thing, that this was not something for K Street lobbyists and career politicians so much as it was for everyday people to kind of get involved in political campaigns."
For Marchesani, it is the urgency to fight for social justice causes that will keep progressives marching forward and demanding change from entrenched political leaders.
"If we say we finish it, we're okay with people that are exploited in this country and not being able to have a living wage, people that have to live on food stamps that aren't even enough," she claims. "And I think it's understanding that if you forget about these issues, if you forget about enforcing these policies and this change, you're saying that it's okay for essentially [allowing] people to die."
Whether the Democratic establishment joins forces with the progressive faction remains to be seen. The apparent rift between the moderate and progressive wings of the party has widened because of the contentious discourse between Biden and Sanders in the latter half of the Democratic primary cycle following Super Tuesday. 
Brown asserts that if the Biden wing of the party is not able to incorporate a majority of Sanders' supporters into his campaign, then many of those voters may break from him and the Democratic Party to further their own political agenda. 
If this separatism within the Democratic Party continues and Sanders' supporters don't vote, it could come at great cost on election day and create a sequel to Clinton's surprising loss to Trump in 2016. For that reason, an alliance between the progressive and moderate wings of the party will be essential for Biden to prevail over Trump in the key battleground states of the Midwest and Florida. 
For MCDS students who supported Sanders, this compromise may force them to forego some of their progressive ideals, but it may preserve the unity of the Democratic Party and help reverse the trend of political polarization dividing our country. 
About the Contributor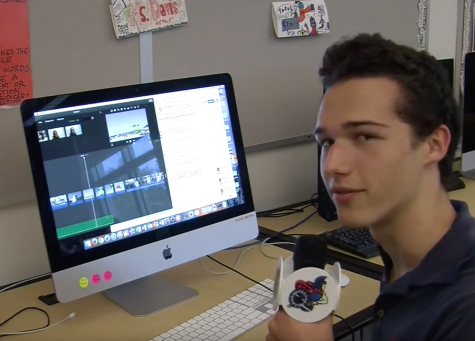 Andrew Weaver, Campus News Editor
Andrew Weaver is a senior at MCDS and he is thrilled to serve as Campus News Editor this year. Since joining The Spartacus in his junior year, Weaver has...