Students Versus Corona, Morocco Edition
Students all over the world have had to adapt during this pandemic and their daily lives have drastically changed. While Zoom has been the platform of choice for students who prefer to learn online, many have returned to campus.  But for those whose families have decided to remain outside the States or they are not allowed to travel back, returning to campus is out of the question. As an MCDS student who has been quarantined in Morocco since the beginning of September, that is my situation.
There are over two dozen international schools in Morocco, including IB schools, and those offering U.S. based curriculum. I wanted to find out how other Moroccan students were faring and shed light on their experiences. 
The virus has affected all Moroccan students, but some more deeply than others. Wiam Khalil, an 11th grader at the American School of Marrakesh, lamented how much her life has changed. "Unfortunately, my grandpa died of coronavirus," she said, and "my school life was disrupted." School for Wiam was not the same. "I had to move to an online school," she said, "but it was only for a little bit, and I'm back now. So, it hasn't been too bad." However, there was no social interaction, so it was harder to seek help from teachers and her peers.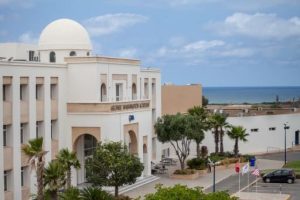 Malek Bdier, a student at the George Washington Academy in Casablanca, used "typical" to characterize his experience. "We went off of school for six months and eased into it with online learning," he stated. "Now we're back in school." Like most students in the US, including those at MCDS, Bdier started school on the video streaming platform, Zoom.  
"It has made a lot of things different because I haven't seen many people, I've been quarantined." said  Paro Kouznetzoff, another student in 11th grade at the American School of Marrakech. Unlike his classmate, Wiam Khalil, who has returned to campus, Paro Kouznetzoff has remained online. 
The responses overall were similar: life is slowly coming back to the "groove" of things. But with the second wave coming, there is no foreseeing what the future may hold. 
Every student from every country has been affected by this pandemic and some are luckier than others to have access to the technology that enables them  to get their school work done. Taking from the interviews and from everyone in general, Covid has changed a lot of aspects of people's lives. 
Sofia Davy is currently in Morocco and was able to interview her friends living and going to school during the pandemic. She was able to observe how people are handling Covid in a different country.