CLASS OF 2022 EXODUS: DO BLACK STUDENTS MATTER?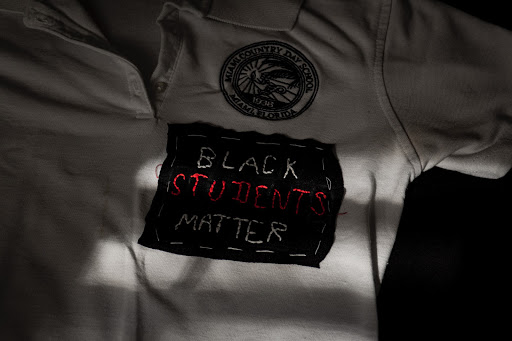 In the summer of 2020, the Miami Country Day class of 2022 lost 6 out of its 13 Black students, amounting to nearly half of the African-American Junior class. Why did so many people leave, and what can we as a community do to prevent another Black exodus from occurring?
In the Upper School, Black students account for 6% of the student body. With 6 of the seventy-five faculty members being Black, a shortage of diverse representation has led to a sense of isolation for many African-American students.
D'Yani Gregiore, a student who left the school two years ago said she "felt less included and that I didn't have any academic teachers to lean on or ask for help when I needed help with grades or studying or anything academic worthy." She lamented that in her three years at Country Day she only had one black teacher. 
So why exactly is a lack of diversity in the Upper School's faculty and staff a bad thing, and was the shortfall the main impetus for students' leaving? Madame Linda Chambers, the Diversity and Inclusion Director at MCDS hired last year as part of an administrative strategy to focus on inclusion, proposed a plausible theory of "mirrors and windows." At school, she explained, it is important that students have the opportunity to see a reflection of themselves in the classroom. Having teachers of similar cultural and racial backgrounds as they do is a big part of this. She refers to this as having "mirrors" available to students that can help them deal with issues specific to them, that may be hard to understand if coming from a different place. 
And as much as mirrors are critical, windows are as well. Having a "window" to see other ways of life is equally important in terms of developing a more equitable community culture. It is crucial for others to be exposed to African American, Caribbean, Latinx, and other minority cultures regularly, not just once a year when it is that particular minority's history month or independence day. These windows are a fantastic way to open one's mind, and can give people a more realistic view of the world. "It's not just [about] shared experiences," reasons Abigail Cherenfant, a current senior, but having more racial representation among the faculty would have a more positive impact on students. 
Evodie Alvarez, one of the six students who left over the summer, shared that although she cannot escape racism in America, she could reduce its negative effects on her life by leaving Country Day. "I'm just aware that I can't run from these things, it's going to be all around me for the rest of my life until the day I die. I know that as a Black woman in America, but if I can just reduce it, in any way I can, I'm going to take that opportunity." To Evodie , it is all a matter of support systems. She believes that although a Black person can never escape racial discrimination in America, if that person is surrounded by a group of similar people and mentors, life as a person of color or as a minority group becomes infinitely easier. Madame Chambers' mirrors and windows idea is a powerful one that Evodie could certainly relate to.
How can Athletics be an Influence?
Mrs. Ingrid Palmisano, the Director of Enrollment and Financial Aid, noted that she "had never seen this happen before" in all her years at Country Day but told us that most of the students referred to in this article left due to "athletic preferences." She continued, "I think when students are looking to play collegiate sports, sometimes they just leave when they think they have a better opportunity."
Olivia Delancy told us, "I truly appreciated my time at the school, but I just couldn't stay down there another year because it just felt like I wasn't getting a return on my investment in the basketball program. So I just came back home." She moved back to Tampa one year after coming to Miami to pursue Country Day basketball. Both Sydney Shaw and Emani Theodule left the Miami Country Day athletic program they had been a part of for several years to play basketball at American Heritage instead.
Country Day girl's basketball is an elite program renowned across the state, having won several state and national championships. Playing consistently on the varsity team nearly guarantees a player a major scholarship from a great college. This is a good thing—talented, deserving kids get huge opportunities. So then why would anyone—much less three of the most elite former players—leave?
"Truly it was all about the way we were treated," said Delancy. "We were spoken to like we needed them [the coaches], and like that was our only way. And, I feel like, we both know there's a lot of white girls and if that's what the team was composed of there would have been another way of speaking. We had a couple on our team, and they never got spoken to like my African American female counterparts did, which was kind of upsetting. They spoke to us in a way as if we were horrible and like we needed the [basketball] program to get to the next chapter of our life. All of us, we wanted to go to college for basketball, and they spoke to us so that we felt like we needed to be dependent on them."
With only a handful of Black Upper School faculty and staff members to discuss these issues with, Olivia, and other players, looked to each other for guidance and support.
"I think it's a comfortability thing… Because when you talk to other athletes, there's a level of understanding," reasons Shaw when asked about the bond she felt with the team.  Delancy concurs. "If Coach yelled at one of us and gave it to us pretty bad, it's like the rest of the school wasn't there to tell us to pick our heads up. Our teammates had to do it. And, we felt like we had been in the trenches together. So we were very tight." 
Using other teammates as a support system is a good thing, but it is distressing that these students felt so uncomfortable about voicing what they were going through on the court, because it means that there may never be any significant change on these issues. Bringing up concerns with trusted members of the staff could improve the chances of issues being dealt with. It is a concerning thought that members of the team suffered in silence at the school rather than speak about their issues. But this result is somewhat understandable considering that there is almost no Black staff to discuss these issues with.
Role of the Student Body
Lack of diversity of staff is not the only reason several students made the choice to leave but it is a common theme. Even though Kobi Henry left to pursue an opportunity to play professional soccer in California, he still felt that the preconceived racial biases of many fellow students resulted in an uncomfortable setting for students of color. "I don't think that a lot of the staff took too much time to really look and realize a lot of the issues that were really obvious going on in the student body."
When asked about how Country Day could improve this, former MCDS student, Sydney Shaw, pondered, "To be better? I feel like Country Day does all that they can. What Country Day tells them is completely contradicting what kids are learning at home, so I feel like they are doing all they can." She argues that the real fault at hand are MCDS students, who have been taught to have racial prejudices purely due to circumstances of their upbringing, rather than a lack of involvement from the school.
What steps has the school taken to make its environment more equitable and minority-friendly? In past years, notable efforts to create a more comfortable environment for people of color have included annual Black History Month assemblies, homeroom discussions about privilege, race, and discrimination along with lunchtime forums to talk about controversial political events. Interactions between affinity groups like the Black Student Union and YPOD with the administration have also shed light on the issues that Black students face on campus. Recently, the organization CAUSE, a group of representatives from each Upper School affinity group, has worked hard to coordinate diversity and inclusivity efforts to remedy disparities and discrimination and according to Madame Chambers, will be issuing a series of recommendations for positive action in the community.
Mrs. Palmisano noted that having student ambassadors has been a powerful step toward making people feel comfortable during the admissions process. She also added that "We also have tuition assistance and many ways that we are able to talk with different families in confidence, one at a time as to really make people feel comfortable with affording Country Day.  The school's ongoing partnership with resident program Breakthrough Miami, she believes, "is just a great way to expose students to our campus."
These initiatives are effective, senior Cherenfant says, "If it wasn't for YPOD, I don't know how I would have navigated the school. Having a place on campus where I am not bombarded with different stereotypes and unsaid pressures gave me a space to grow on campus." However, even though the proper actions have started to be taken, there is a general reluctance of the student body to take in these issues as valuable, consequently holding back progress.
Have students themselves contributed to the perceived "toxicity" some feel? 
"I know that was a big thing that was an issue last year, there [were] a lot of cliques and for someone who didn't fit into one of them, you can just kind of feel isolated," Kobi mentioned. Camryn Johnson, another former member of the class of 2022, pinpoints the microaggressions she faced on campus as proof that the student body needs to become a more inclusive group. "I was so young when I first enrolled in the school, but, I think I was expecting it to be a much more welcoming community. In hindsight, there are so many things that people need to address but don't want to, like the amount [sic] of microaggressions that I experienced in a day, and how it's just, not that safe of a space."
Just a few examples of microaggressions in which former and current students said they have faced include non-Black students saying the n-word, incidents of non-Black students repeatedly touching Black students after being told to stop (specifically hair), ignorant racist jokes, and blatantly racist coded comments.  
Because microaggressions are often very subtle and stem largely from ignorance, they can be hard for those not targeted to pick up on and are even harder to reform. Although the administration can surely play a role in raising awareness of these issues, it will primarily be up to individual students to recognize and reconsider their prejudices. 
"I feel like when we did discuss diversity issues, it was kind of brushed off in a 10 to 15-minute conversation, rather than sitting down and doing activities to really speak on the topics that were issues at the school," said Kobi Henry, another former classmate.  "But of course, it'll be up to the students themselves to determine whether they want to respect POC cultures or not," reasons D'Yani Gregiore.
What needs to be done at the school to keep something this dramatic from happening again? Hiring a more diverse staff would certainly be a big step, as would continuing to encourage students to realize and reform their racial biases. Providing students of color with more of a platform and a space to talk about preventable race-related issues could go far to mitigate the exodus of Black students. 
"There is the past, the present, and the future," reminds Madame. Our focus now, she adds, should be on understanding the past to make a better future.