Athletics Update 9/11
Athletes/ Spartan Fan of the Week announced!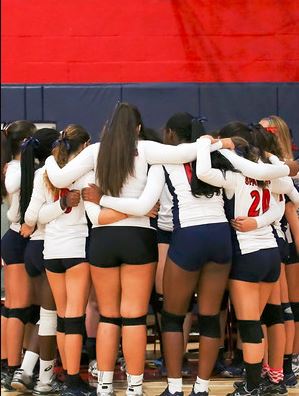 Please help congratulate this week's "Spartan Athletes of the Week."
Middle School Female Athlete of the Week
Isabella Allen – Cross Country
Isabella finished 12th overall and first for the Spartans in the King of the Hill Invitational at Tropical Park. 
Middle School Male Athlete of the Week
Zach Charalambides – Swimming
Zach finished first in the 100 Freestyle and second in the 200 Freestyle in a meet against Gulliver. 
Upper School Female Athlete of the Week
Megan Tate – Golf
Megan led her team to their first two wins in 30 years by shooting a 46 against LaSalle and a 43 against Calvary Christian. 
Upper School Male Athlete of the Week
Sam Cohen – Football
Sam led the defense with 9 tackles, forced a fumble, and recovered a fumble in the Spartan's 17-14 win against Marathon High School
Eric "Pops" Pearson – Grandfather
In Wednesday's Athletic Action
….
Spartan Volleyball results
….The White Team (2-2) beat the Blue Team (2-2) 25-13, 26-24.  Isabel Brous had 6 service points and Maddie McDonald added 3 digs and 2 aces.  The Gold Team (3-1) beat the Red Team (1-3) 25-21, 25-18.  Mila Seikaly had 8 service points, Eva Ankonina added 3 aces, and Olivia Borchers had 5 digs.  The 
Middle School Football Team (1-1)
 beat Florida Christian 18-0.  Sean Fuller led the way with 14 carries for 202 yards and 2 touchdowns, made 6 tackles, forced a fumble, recovered a fumble, and had 2 interceptions, one of which he returned 40 yards for a touchdown.  Nasir Dean added 5 tackles, Richard Lovelace made 3 tackles and recovered a fumble, and David Burger played well.  The results of the 
swim meet
 at Gulliver will be included in Friday's update.
In Today's Events….,
the 
Boys Golf Team
 travels to Palmer-Trinity (Biltmore) at 2:30pm, the 
Girls and Boys
Cross Country Teams
 participate in the Pine Crest Invitational at Mills Pond at 3pm, the 
Varsity Football
Team
 travels to Pompano High School at 7pm, and the 
Girls Middle School (JV/Varsity)and Girls
Junior Varsity Volleyball Teams
 host Westminster Christian at 4pm/5pm/6:30pm. 
On Friday
….The 
Girls and Boys Swim Teams
 host Marathon at 4pm, the 
Junior Varsity and
Varsity Volleyball Teams
 host Florida Christian at 3:30pm/5pm, and 
Food Trucks
 will be on campus from 3-7pm.   Please come out to support our 
Swim and Volleyball Teams
…..
In Saturday's Action……
The 
Middle School (JV) Volleyball Team
 hosts a tournament with Cushman, Carrollton, and Palmer-Trinity starting at 9am, and in 
Shores Spartan Football
 Action….the 7/8 year olds play at 10am, 9/10 year olds at noon, and 11/12s at 2pm.