Athletic Update 9/22/14
Spartan Volleyball Takes on Curley!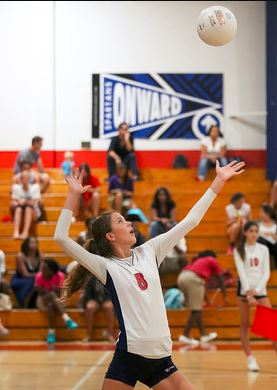 The Girls JV/Varsity Volleyball teams will take on Archbisop Curley tonight with games scheduled to begin at 6:00pm and 7:30. We hope to see many spartan fans in attendance at the JCRA.
In Friday's Athletic Events…..The Junior Varsity Volleyball Team (6-8) beat Florida Christian 25-16, 8-25, 16-14.  Yakira Matisonn led the way with 3 kills and 6 digs, Nyasia John had 4 kills and 3 blocks, Mia Simmonds added 4 aces and 11 digs, and Chiara Settineri had 6 assists and 7 digs.  The girls also beat Trinity Christian 25-19, 23-25, 15-7.  Katerina Filpi had 7 aces, 3 kills, and a block, Chiara Settineri added 6 assists, Yakira Matisonn had 2 kills and 4 digs, Bridgette Lewin had 6 kills and 2 digs, and Nyasia John added 9 kills.  The Middle School Football Team (1-2) lost to Ransom Everglades 28-0.  The Girls and Boys Swim meet against Ransom was cancelled due to inclement weather.  The Varsity Football Team (1-3) lost to Ransom Everglades 26-14.  Austen Weinberg led the way with 15 carries for 104 yards and a touchdown, and had 9 tackles and 2 forced fumbles, C-Jay Charles returned a kickoff 98 yards for a touchdown, Hector Estupinan ran for 59 yards, Sam Cohen made 14 tackles, Carlos Ortega had 8 tackles, and Justin Walker and Chad Azeroul-Dray each made 7 tackles.  In Spartan Volleyball action…..The White Team (3-3) beat the Red Team (1-5) 23-25, 25-19, 16-14.  Leire De Zabala led the way with 8 service points and 4 digs, Claire Kanners had 4 passes and 4 digs, Mariana Antonaccio added 7 service points and 2 digs, and Isabel Brous had 8 service points and 3 aces.  The Gold Team (5-1) beat the Blue Team (3-3) 25-22, 29-27.  Zoey Arnold had 15 service points and 6 aces, Rootbenie Desir had 7 service points, 2 aces, and 3 digs, and Luna Bertucci had 6 service points.
On Saturday…..The Junior Varsity Volleyball Team (6-8) lost to Ransom Everglades 25-8 and 26-24 and lost to Westminster Christian 25-11, 25-12.  Mia Elortegui led the way with 2 kills and 5 digs, Nyasia John had 6 kills, Chiara Settineri had 5 assists and 14 digs, Isabella Serralles had 4 digs, and Mahima Aggarwal added 4 assists.
In Today's Action…..The Boys and Girls Cross Country Teams host a meet at Greynolds Park at 4pm, the Boys Golf Team plays Chaminade and University School at 3:30pm,  the Girls Middle School (JV) Volleyball Team travels to SLAM at 3:30pm, the Junior Varsity and Varsity Volleyball Teams host Archbishop Curley (Live-streamed Events) at 6/7:30pm, and the Spartan Volleyball games start at 3:45pm.
On Tuesday…..the Boys Golf Team travels to Westminster Christian at 4pm, the Boys andGirls Swim Teams travel to Ransom Everglades at 4:30pm, the Junior Varsity and VarsityVolleyball Teams travel to Chaminade at 4:30/6pm, and the Middle School (JV and Varsity)Volleyball Teams host Cushman at 4/5pm.
MCDS Athletic Facebook page – We will be updating our MCDS Athletic Facebook page each day throughout the year.  It will include daily updates, current pictures, and information about special events.  If you are a "Facebook user" please like us at "MCDS Athletics."
Open i Studio – Please check-out all of our Fall athletic photos at www.miamicountryday.org –
go to athletics, then athletic photos, or go directly to Open i Studio at http://www.openistudio.com.
My Spartan Locker – Please visit our Spartan (on-line) store. There are a variety of
products available, and we will continually be adding new items throughout the year.  Our Athletic Department will receive 12% commission on all sales.  Our store, which is conveniently located on our athletic webpage or at http://www.mylocker.net/florida/miami/miami-country-day
school/index.html
If you have any questions or concerns, please contact Chris Hayes, Middle School Director ([email protected]), Chuck Sennett, Athletic Director ([email protected]ountryday.org), or Mary K. Odio, Administrative Assistant ([email protected]).