Spartan Chess Shines at 2014 National Grade Level Championships
Four Spartans made their way to Orlando this past weekend to participate in the 2014 National Grade Level Championships.  All four players had impressive performances and 100% of them received individual accolades.  The 6th graders also brought home a team trophy.
6th Grade Section: Justin Kleidermacher & Elliot Starkman won an 8th Place team trophy competing only as a team of two (the top three scores from each school count towards the team score at this tournament).   Justin won a 9th Place individual trophy and Elliot won a 15th Place individual trophy as well.  Justin increased his rating by 23 points and Elliot maintained his Class A rating.
10th Grade Section: Lauren Kleidermacher won a 9th Place individual trophy and increased her Class A rating to 1888, her personal best, and is the highest rated chess player on the MCDS campus.
7th Grade Section: Joseph Aming had a great performance in his first-ever national tournament and also brought home a 3rd Place class trophy for an excellent score among other players in his rating group.  Joseph has shown a remarkable trajectory over the past year—his ratings graph is below.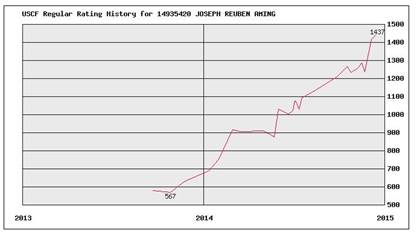 Next on the Spartans schedule are the Epicure Grand Prix #4 on January 17th, the South Regional Championships on January 31st, and the State Championship at the end of February.