Spartan Fans Turn to Voting to Support Girls Basketball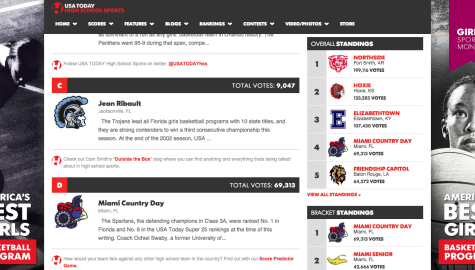 The athletic program here at Country Day is top notch, and as we all know, our Girls Varsity Basketball team has won the State Championship title once again for Class 3A. This is huge for the school, marking the second state championship for MCDS. Additionally, our lady Spartans were ranked number five in the whole nation for girls high school basketball by USA Today. This was determined by looking at results, quality of players, and the strength of the schedule. The girls basketball team was also chosen as one of the five schools from each state to participate in a competition where fans vote for the team they believe is the best. This poll is also being conducted by USA Today over the next few weeks. The winners will receive one thousand dollars to the schools athletics program.
This poll is a chance for us to help our favorite girls basketball team and pay them back for the hard work they have put in to win states for MCDS. Zac Goldberg is a huge supporter of the girls basketball team and thinks that, "this is a perfect opportunity for the school to come together for one cause. And that is to support the girls basketball team." Zac was actually given time off during his computer science class to vote. Ms. Long, Zac's teacher in that class said that when they had a sub she gave them time to vote. "I voted many times on my phone but my classes didn't because they had already done so, but one day I had a sub so they were given time to vote." Ms. Long also said that although she wasn't able to make it to the state tournament, she is still a big fan and thinks "that its pretty amazing that we are fourth in the whole competition considering that our school is 1200 kids, it really shows how much spirit our school has."
Stephanie Mackenzie, a player on the team, said that, "I think I can speak for the whole team when I say we are all so grateful for the support we've gotten. It's incredible how so many people have supported us and voted." As one of the four seniors on the team, she will be graduating this year. Stephanie mentioned that, "This is a great way for me to end my career and I am proud to be part of the journey."

So even after the girls basketball season comes to an end, Spartan fans still continue to support them completely. Through winning games and voting online, Country Day definitely has proven to have the best girls basketball team and fans in the nation.