New Teacher Profile: Ria Maxwell – The Woman Who Wears Two Hats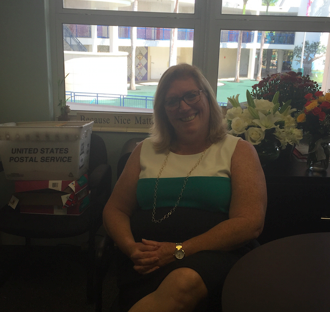 Ria Maxwell, growing up in Long Island, New York, originally dreamed of being a farmer. But after her teacher broke the "news" that only boys were farmers, she devised a new dream: to be a teacher. Now, at Miami Country Day School, after teaching 4th grade in the Lower School division, this year, Ria Maxwell has been promoted to the Dean of Faculty and Director of Human Resources.
Before arriving at MCDS, Ms. Maxwell was the head of the middle school at the Ross School, located in the Hamptons. There, Ms. Maxwell gained years of experience that helped her make a smooth transition between teacher to administrator.
Ms. Maxwell's unique skill set has given her a broader understanding in the field of education. "I've taught every grade from 2nd grade, all the way up through post-grad students," states Ms. Maxwell. She has also taught at a number of schools and has in fact been a teaching fellow to a tenured professor at Harvard.  During her time as a teaching fellow, she assisted a tenured professor.
"Basically, I wear two hats," says Ms. Maxwell when asked what her new job positions entail. Being the Dean of Faculty, she must oversee the professional growth and development budget along with sitting on a committee that mentors teachers on how to engage their students in the classroom. As the Director of Human Resources, Ms. Maxwell supports and encourages all faculty and staff to fully understand the requirements of their jobs and to perform to the best of their ability.
In order for Ms. Maxwell to feel she is doing the best job she can possibly do, she must overcome a few challenges each and everyday. She believes that her first challenge of the day, is finding a balance between the two hats she wears. The second challenge she faces each day is perfecting her time management skills by finding enough hours in her twelve hour work days to wear each hat evenly. Facing all these challenges on a daily basis, Ms. Maxwell is proud to say that she knows everyone that works at the school, knows their strengths, and who they are as a person in such a short period of time.