New Teacher Profiles: John J Hernandez – Meet Our School's New "Jack of All Trades"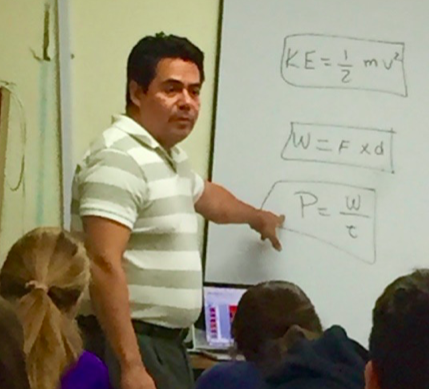 A man originally from Columbia with a love of arts, an all-around athletic ability, and a repertoire of versatility in the Science department, new Physics teacher, John J. Hernandez, is excited to be part of the Miami Country Day School community.
"It's the best school I've ever worked at, so far," Hernandez declared about the fourth school he has taught at in his six years of teaching. Hernandez teaches only Physics at MCDS, but taught other subjects such as Biology, Chemistry, and even Spanish at previous schools. "It just fell in my lap. I was offered to teach Physics at one point, and I thought it would be really awesome to do it."
While Hernandez might seem like another ordinary teacher from the look of his slacks and a collared shirt, one would not think that Mr. Hernandez is quite the aesthete. Watching plays and viewing visual art are some of his hobbies. "I love theater and the arts too. I love going to galleries and museums." Hernandez also listens to all different types of music genres, saying, "It depends on the mood that I'm in."
On top of all this, the arts fanatic was also an all-around high school athlete as well. He played baseball, ran track, and played a variety of other sports too. "I pretty much played every single sport in high school," Hernandez exclaimed. "I was even on the volleyball team once."  Mr. Hernandez also plays tennis and loves to watch European soccer and American basketball. As an NBA basketball fan, his team was the Chicago Bulls when he lived in Chicago, but since he has lived in Miami for ten years, he roots for the Heat as well as the Bulls.
According to one of his students, Mr. Hernandez is a bit of a jester too. "He makes a lot of jokes in class," says Karl Smith, a junior taking Mr. Hernandez's Physics class. According to Karl, Mr. Hernandez incorporates those into things the class is learning. Mr. Hernandez is so comedic that another junior taking Mr. Hernandez's Physics class, Jay Weaver, said, "He reminds me of George Lopez." A scientist, an aesthete, a athlete, and a comedian as well, Mr.Hernandez is an all-around perfect fit for the MCDS Community. "He's a really great guy," Karl Smith said.