New Teacher Profiles: True To His Sign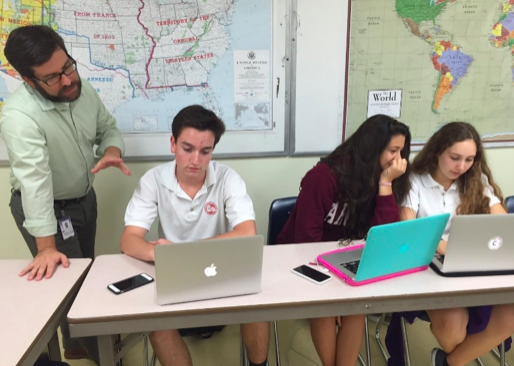 According to www.horoscopes.lovetoknow.com, a person born under the zodiac sign, Cancer, is family orientated, creative, an excellent provider, and a diligent worker, all of which Dr. Greggory Lightfoot embodies. Ms. Amy Gallup, head of the Humanities Department, seemed to have noticed these qualities in Dr. Lightfoot, which prompted her decision to hire him as the new history teacher at Miami Country Day School. "He cares about his students and wants to find ways to engage them and for them to succeed.  He has an accomplished and varied background, including as a musician, and he is a collaborative colleague."
Dr. Lightfoot refers to himself as "Dr. L", which is far from being called "Heavy" by his classmates at Cornell University. Dr. L laughs in recalling the days. "I have no idea why," he chuckles, "It may have been a play on Light, but I didn't really mind."
Proving true to his Cancerous hard working nature, Dr. L graduated with a BA, MA, and PHD in U.S. and Latin American History. "My dad was always interested in history, so I was interested from a young age," he shares. Lightfoot decided to take this knowledge and apply it in the teaching world, moving to Orlando where he taught at a high school for five years. However, he has now returned home, to the soil on which he was raised, because after all, those born as a Cancer, are family orientated.
Although only a few weeks into the school year, students have particularly noticed his sense of style. Student, John Sayfie contributes to the awareness. "I noticed he dresses very professionally. His sleeves are always perfectly rolled up his arms. It's very uniform and clean cut. Very appropriate." When asking Dr. Lightfoot about how his dress code represents his personality, he almost answered in the same way. "Well I like to try to dress neatly and clearly, or rather modestly and not too flashy, which is how I try to convey material in class as well," he shared.
If Sayfie's comment is any indication, in today's youth, the way to their hearts is through a buttoned up shirt, slacks, and wingtip oxfords.
Teaching in this new environment, Dr. L shares his future prospects he has for his career here, at Miami Country Day School. "My goal is to continue to develop my ability to help all of you satisfy that curiosity, help you strengthen the tools you need." Www.horoscopes.lovetoknow.com did mention that a Cancer is caring. The website is true to its word!