The Man Behind the Desk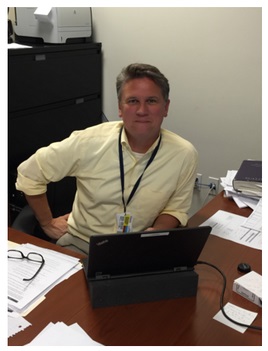 In 2004, Dan Bronish brought his talents from Ohio's bitter cold to Miami's heat. Now, eleven years later, he takes on a new role: Academic Dean of Upper and Middle School.
"I was teaching at a Catholic school in Cleveland and we had 115 inches of snow one year, so I started looking for a job outside of Ohio," says Bronish. He began working here as a 7th and 8th grade math teacher. A few years later, he would replace Roger Jaffey as the Department Chair of Mathematics, Science, and Technology.
Although Mr. Bronish loves teaching, his past jobs include being a currency trader and a restaurateur. So how did he enter the world of educating teens? Bronish answers, "I kind of got into teaching because I was also a yoga instructor and I really enjoyed teaching yoga and I thought hmmm, could this go into something else? You know a variety of things just came together and here I am today."
Notwithstanding the fact that Mr. Bronish is the Academic Dean, he also manages to instruct a section of Honors Functions and Calculus I. Since he only teaches one class, he finds that the time he spends educating is the time of the day where he gets the most "peace of mind". Mr. Bronish would even like to have an economics class in the future.
Mr. Bronish plans on impacting the MCDS Academic Community by implementing a few of his ideas including the improvement, organization, and communication of academics altogether, while also enhancing the way students register for courses. "I'm also focused on creating opportunities for our high-achieving students to be able to reach for the stars. I want them to understand that learning cannot just be done in the classroom and that as academic leaders there's a responsibility that comes with that."
Who is Mr. Bronish when not in work mode? Having been to nearly fifty countries in six of the seven continents, he has always had a strong passion for travel. Exploring the world has had a significant influence on his work by enabling him to apply the learnings that he has gained from experiencing multiple cultures into his classroom. Mr. Bronish calls himself a "foodie" because of his love of ALL FOOD (except mushrooms). He even began making cheese! This includes everything from goat to brie to cheddar! "It's a great lesson in patience!"
Mr. Bronish's past work experiences have prepared him for this important leadership position. With the experience, intelligence, and creativity he will bring to the new position, Miami Coutnry Day's academic program is in good hands.